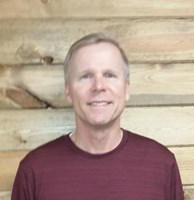 RESPONSIBILITIES
Elder Board, Missions Committee, Worship Team, Choir, Hand Bells
MY FAITH JOURNEY
I grew up in the Lutheran Church, but really didn't have a strong faith.  In my late teens I started attending a Methodist Church where I met and married my wife, Barb.  We became active in the church, but we both felt we were missing something spiritually.  We moved to Maple Grove and decided to start attending a small Covenant church. There I was shown that I needed a personal relationship with Jesus Christ and I accepted Him into my heart as Lord and Savior.  We came to MapleRidge Church on the recommendation of friends who said there was sound preaching, good music and a caring Christian fellowship.
FAMILY
I married Barb in 1982 and we have a daughter – Kelly, and a son – Benjamin.
PASSIONS FOR THE KINGDOM
Encouraging and enabling others to serve God by being missionaries or going on short term mission trips.
FAVORITE BIBLE VERSE
Joshua 1:9: Have I not commanded you? Be strong and courageous. Do not be afraid; do not be discouraged, for the Lord your God will be with you wherever you go.
HOBBIES
Grandkids, Fishing, Hunting, Camping, Biking, Cross-country skiing, Tennis