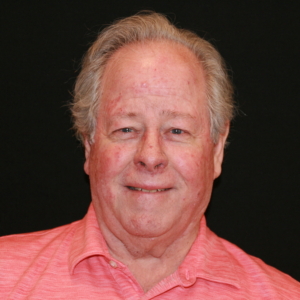 RESPONSIBILITIES
Minister to the seniors within the church and outside of the church.  This includes arranging activities in the church, such as concerts and events that involve seniors.  The goal of the Legacy Group is to increase the size and  cultural make-up of the group and increase the seniors' involvement in the church.
MY FAITH JOURNEY
I accepted Christ as my Lord and Savior in September of 1978.  Coming from a Catholic background, this was a big change in my life.  Many have mentored me, and I have been active in missions work all of my Christian life.  I will continue to serve my Lord as best as I can until I am called to my heavenly Home.
My family consists of my wife and companion, Lynn, daughter Holly, son-in-law Kelly, two granddaughters — Rowen and Viene.  I must mention our grand-puppy, Jack and grand-cat, Astrid.
PASSIONS FOR THE KINGDOM
My passion for the Kingdom is to have all that I come in contact with hear the gospel and receive Christ as their LORD.  Remembering that, "there's always room at the cross."
FAVORITE BIBLE VERSE
Psalm 42:1:  "As a deer pants for the flowing streams, so pants my soul for you, O God . . . "
HOBBIES
A little golf and fishing and playing card games.
RECOMMENDED BOOKS
Hard to Believe by John MacArthur
Secrets of the Vine By Bruce Wilkerson