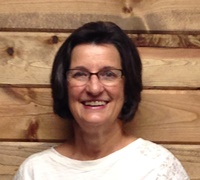 RESPONSIBILITIES
Develop a repeatable process of budget management to deliver fiscal responsibility to MapleRidge members.
MY FAITH JOURNEY
My parents introduced me to a Christian lifestyle at an early age.  As a member of a Presbyterian church, I observed a ritual-based faith in those early years.  It wasn't until coming to MapleRidge Church in 1991 that I developed a personal relationship with Jesus Christ, accepting Him as my Lord and Savior in 1993.
FAMILY
I married Mark Christiansen in 1987.  We have 2 daughters — Angelique (Tim) and Kendra (Dan) — and 1 son — Cameron (Alyssa), and 6 wonderful grandchildren.  I am blessed by this wonderful family and cherish every minute I can spend with them.
PASSIONS FOR THE KINGDOM
My spiritual gift is service.  You will many times find me in the MapleRidge kitchen, which is where I feel the most comfortable and fulfilled.  Mark and I have been members of a life group for many years.   With these dear friends we love studying God's Word.
FAVORITE BIBLE VERSE
These verses guide my actions, as I am an action-oriented person.  I love that God clearly tells us what is expected and what we must do!
Ephesians 5:9
Philippians 1:10
James 1:5
HOBBIES
The Good Lord has blessed us with a lake home in northern Minnesota (Cotton).  Therefore, hobbies include all things outdoors!
RECOMMENDED BOOKS
A good devotional is always top on my list. I have found Joyce Meyer's books Starting Your Day Right and Ending Your Day Right devotionals are a great read over and over again.