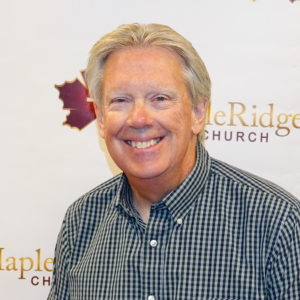 RESPONSIBILITIES
Elder Board Chair
MY FAITH JOURNEY
I am a product of the church. I grew up in a Christian home where my parents were active lay leaders in our church in Decatur, IL. When there was an activity at our church, there was a good chance that some or all of my family – my parents, four sisters, and I – I would  be there. I made a personal confession of faith as a teen at a summer youth camp and followed the Lord in baptism after that. I sensed God calling me into music ministry as a college freshman, and completed a degree in church music and religious studies. I later completed my Master's degree in church music and have served churches large and small in music ministry for the past 40+ years. I make my living as a free-lance composer creating music resources (choral, handbell, keyboard, orchestral, etc.) primarily for use in church music ministry settings. I have been serving in music ministry at MapleRidge Church since 1994.
FAMILY
I have been married to my college sweetheart, Marci, since 1976. We have three adult children who are all married and living in various parts of the country: Steph and Brandt in Minnesota, Phil & Kylee in Indiana, and Jeff and Jacquelyn in California. We also the proud grandparents of Addie, Eli, Izzy, Oliver, Dax & Ever.
PASSIONS FOR THE KINGDOM
I am particularly passionate about music and worship. I am convinced that the #1 responsibility of the church is to be the worshiping people of God. As a result, I've spent my life and career trying to help people focus and meaningfully engage in the experience of corporate worship. I also believe that the community of faith is enriched when multiple generations share their life and faith together. When older adults and young people have opportunity to worship and study together, then growth happens on many levels. MapleRidge embodies this in so many ways, and that is one of the reasons we have been committed to this fellowship for well over 20 years.
FAVORITE BIBLE VERSE
My life verse is Proverbs 3:5-6: Trust in the Lord with all your heart and lean not on your own understanding. In all your ways acknowledge Him, and He will direct your paths.
HOBBIES
I am an avid sports fan, especially all Minnesota teams: Twins, Vikings, Timberwolves, Wild, Lynx, and Gophers. I also enjoy reading. For fun, I'm a John Grisham fan. I think I've read every one of his novels. I also enjoy theology and inspirational books (especially Philip Yancey and Lee Strobel). Music is not only my career, it is also a hobby. I love going to concerts from classical to jazz to choral to classic rock. I enjoy the water, skiing, and travel with my bride. Enjoying my grandkids (and especially being a vocal fan at their games) is also a real joy for me.