"We love Him because He first loved us," (I John 4:19).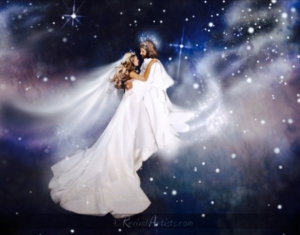 "For God so loved the world that He gave His only begotten Son, that whoever believes in Him should not perish but have everlasting life," (John 3:16)

Have you ever stopped just to meditate on the fact that the very God of the universe loves you? Stop and think about that. . .
Jesus loves you. He loves you. And He demonstrated that love (put action to His words) by dying for you so He could have you by His side forever!
"But God demonstrates his own love for us in this: While we were still sinners, Christ died for us," (Romans 5:8).
"Behold what manner of love the Father has bestowed on us, that we should be called children of God!" (I John 3:1a).
"In this is love, not that we loved God, but that He loved us and sent His Son to be the propitiation for our sins," (I John 4:10).
He made the first overture toward a love relationship by dying for us. Quite the overture! And once we have accepted His overture, He gives us so much more! It truly is the greatest love story ever told. It's unbelievable! But it's true!
A while back I found this short, beautiful post online. It's apropos for our thoughts today on the love of God. It gives a different perspective to this wonderful truth, and it could be my own story . . . or yours
The Greatest Love Story Ever Written: The Life of Jesus
"Like many young girls, when I was growing up I'd dream of being a beautiful princess waiting for my handsome prince to rescue me. He'd slay all the dragons without fear. He'd love me enough to be willing to die for me. He'd save me from those who wished me harm.
"And then real life began creeping in. The princes were really frogs. The dragons were too strong. I wasn't safe from harm.
I lost hope in romance. I lost hope in love — Until I found the greatest love story ever written. This is an incredible story of love, intrigue, betrayal, and the ultimate sacrifice.
"This is a story with a Prince who is more powerful than any dragon yet more humble than any servant. He is strong and fierce, yet kind and merciful. He loves tenderly. Even His rebukes are loving and gentle. His touch is healing. His words are comforting. He says we are His bride and that we will be together forever.
"But, just like any good love story, there is an evil enemy pursuing our Prince at every turn. He could run away, but He loves us too much to leave us. If He runs, we perish, and He would never allow that to happen. Our Prince is faithful and true. So He stays. He stands between us and the evil enemy of our souls. And He says, 'To get to her, you have to go through me.'
"Our noble Prince is betrayed, captured, beaten, and eventually murdered. He dies for us. And, because He dies, we are saved. But the story doesn't end there. This is a story to restore all hopes. This is a story of unending love.
Our Prince is raised from the dead! He slayed the dragon. The battle is over, and He is the victor.
"And then He comes back for us. He says He will never leave us:
"I am with you always, even to the end of the age" (Matthew 28:20).
"Our Prince. Our Rescuer. Our Savior. This Prince's name is Jesus Christ.
"The greatest love story ever written is the story of Jesus' life from the gospels of Matthew, Mark, Luke, and John in the Bible. Jesus loves you more than you could ever imagine. He is greater than any of the princes of your daydreams. He will rescue you if you'll allow Him.
"Jesus is the restorer of hope. If you believe in Him, you will have everlasting life with Him (John 3:16)."
May this true tale of the greatest love in the universe bless your heart as you consider the powerful, humble, strong and merciful Prince who is our King and loves me and you enough to sacrifice Himself so He can spend forever with us at His side. Amazing love. Who can hear the story too often?