"And God will wipe away every tear from their eyes; there shall be no more death, nor sorrow, nor crying. There shall be no more pain, for the former things have passed away," (Revelation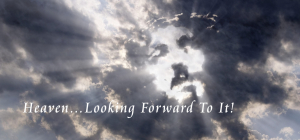 21:4)
Can you even imagine a place where death, grief, crying and pain don't exist? They simply don't exist! I can't. It's too much a part of my DNA to brace myself for these things or to deal with them when they occur.
As much as I look forward to seeing Jesus and my grandma and others who have preceded me; as much as I anticipate my sin nature being eradicated; as much as I count on experiencing the beauty and glory of Heaven, I look forward to never dealing with my death or that of anybody I love, never having to manage illness or as much as a toothache! How about you?
God talks about us anticipating all these things. Did you know that? A number of times, actually. He presumes our enthusiasm, in fact, in a number of places.
"For we know that the whole creation groans and labors with birth pangs together until now. Not only that, but we also who have the firstfruits of the Spirit, even we ourselves grown within ourselves, eagerly waiting for the adoption, the redemption of our body," (Romans 8:22-23).
"For our citizenship is in heaven, from which we also eagerly wait for the Savior, the Lord Jesus Christ, who will transform our lowly body that it may be conformed to His glorious body, according to the working by which He is able even to subdue all things to Himself," (Philippians 3:20-21).
"So Christ was offered once to bear the sins of many. To those who eagerly wait for Him He will appear a second time, apart from sin, for salvation," (Hebrews 9:28).
He also tells us that anticipating our Home-going and our miraculous and eternal transformation into complete Christ-likeness will actually fuel the transformation of our character while we are still here. Did you know that?
"Beloved, now we are children of God; and it has not yet been revealed what we shall be, but we know that when He is revealed, we shall be like Him, for we shall see him as He is. And everyone who has this hope in Him purifies himself, just as He is pure," (I John 3:2-3).
Have you ever done something for your children or maybe your spouse or even a good friend and you just knew that that special gift or that vacation you planned or that romantic dinner out would absolutely thrill them? Part of the fun of imparting a gift is knowing how much it will be appreciated when your loved one receives it watching their excitement in advance as they anticipate it. Think of that in relation to our Father and all He has planned for us for eternity. Of course He presumes our excitement! He knows how grand His gift is!
If, perhaps, today you aren't as enthused about our forever with Jesus, I humbly recommend that you begin to focus on it more in your quiet times and get excited about all God has for us! His Word gives us a peek, and what a glimpse it is! It isn't fiction or fanciful. It is your heavenly Father's passionate promise to you and me!