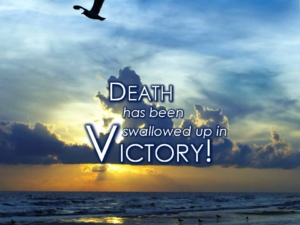 CELEBRATE RESURRECTION! WE'LL NEVER DIE

"Jesus said to her, 'I am the resurrection and the life. He who believes in Me, though he may die, he shall live. And whoever lives and believes in Me shall never die. Do you believe this?'" (John 11:25-26).
This may be my favorite verse about resurrection. It says Jesus IS the resurrection and the life. Think about this sentence:

"And whoever lives and believes in Me shall never die."
Never.
But . . . people die! Christians die! Au contraire! A Christian's body dies. The person –- the soul who has trusted Jesus for salvation — keeps right on living! That's what Jesus said, right? "Shall never die."
Our Lord died, and then rose again from the dead. He chose to lay His life down, and He had the power to raise Himself from the dead:

"Therefore My Father loves Me, because I lay down My life that I may take it again. No one takes it from Me, but I lay it down of Myself. I have power to lay it down, and I have power to take it again. This command I have received from My Father," (John 10:17-18).
And in doing this, He introduced a new era. He is the first of many who will be resurrected (i.e., our spirit will rejoin our [glorified] body and we will eternally live – "shall never die").
"But now Christ is risen from the dead, and has become the firstfruits of those who have fallen asleep. For since by man came death, by Man also came the resurrection of the dead. For as in Adam all die, even so in Christ all shall be made alive. But each one in his own order: Christ the firstfruits, afterward those who are Christ's at His coming," (I Corinthians 15:20-22).
This is the true celebration of Resurrection Day! Our Lord's victory over death portends our victory over death! What a thing to celebrate!
"So when this corruptible has put on incorruption, and this mortal has put on immortality, then shall be brought to pass the saying that is written: "Death is swallowed up in victory," (I Corinthians 15:54).
There can be no greater truth to celebrate than the truth that Jesus overcame death and, therefore, so shall we! This weekend, take time to truly celebrate this amazing reality that is yours as a Christ-One!
Happy Resurrection Day! Those in Christ will never die, because Jesus lives!