"We love Him because He first loved us," (I John 4:19)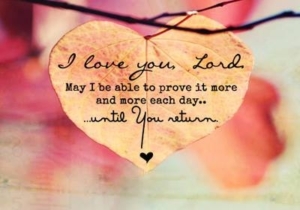 A really poignant and true definition of love is summed up in one word: commitment. We hear this all the time in sermons or books or articles about marriage, and it's true.
But it's true in every relationship we have — think of a parent caring for a disabled child; think of a child caring for his or her parent in their senior years; think of friends so close that when one grows ill, the other moves in to care for the one who is incapacitated. Think of the dedication of a husband who continues to be devoted only to his wife when she becomes crabby and disillusioned and says and does things to him that leave him aghast and emotionally wounded. These are examples of love as commitment, because in many instances our love for someone involves some pretty down-in-the-trenches kind of duties and attitudes.
Think of your love for our Savior. Does this same kind of determination ring true for you where He is concerned?
"You shall love the Lord your God with all your heart, with all your soul, with all your mind, and with all your strength," (Mark 12:30).
"For the love of Christ compels us, because we judge thus: that if One died for all, then all died; and He died for all, that those who live should no longer live for themselves but for Him who died for them and rose again," (II Corinthians 5:14-15)
That second passage is one of my favorites, because it says, in effect, "I can't help myself! Jesus' great love for me — the love He showed by dying in my stead — it compels me to live the rest of my life solely for Him."
There's a song that says, "I will serve You because I love You."  In other words, I am grateful for Your sacrifice on my behalf. I serve You in gratitude for how You took the shards of my life and created a mosaic. You died for me; the very least I can do is live for You.
It's a simple message. But it's a challenging one, I know. It is so easy to get distracted in this world and begin living for ourselves!"
What does living for Jesus entail in your life? I can't answer that for you completely. Only you can! I can say it means spending time with Him in His Word daily getting to know Him. I can say it means knowing He's with you as you go about your day and sharing the big and little things with Him.
But we all serve Him in different ways at different times in our lives. It may be raising children — or grandchildren — to love Jesus. It may be caring for an elderly parent or a spouse who is incapacitated. It may be on a mission field at home or abroad. Serving Jesus takes many different forms and it always amazes me to consider someone else's' life and how the Lord is using them to further His kingdom work, though what they are doing is so totally different from what He has me doing. But it's all preparation for eternity!
My challenge to each of you — as well as to myself — is to take stock of your personal relationship with Jesus in light of His Word, above, and truly determine to live for Him Who died in your stead. It's the very least we can do for our Savior, not out of a sense of obligation — we cannot ever repay Him — but out of an overwhelming sense of gratitude.