Sweetwater Revival Concert:  Saturday, August 3rd
Join MapleRidge Church on Saturday, August 3rd, at 4:00 PM for a unique concert featuring Sweetwater Revival — "The female quartet of Southern Gospel Music."  Sweetwater Revival has been nominated for "Female Group of the Year" by Absolutely Gospel Music Awards, and holds a unique place in the genre of Southern Gospel as one of the very few — if not the only — ladies Southern Gospel quartet in the entire nation!  They are known to always deliver tight harmonies, beautiful ballads, & hand clapping scripture-filled music.
This is an evening you won't want to miss.  Bring a friend and join us for an evening of inspirational music with a message:  The Gospel of Jesus Christ!
Baptism Sunday: September 8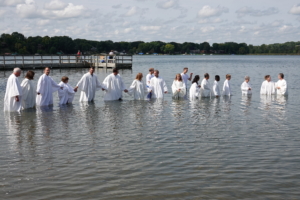 Have you followed the Lord in believer's baptism since you came to know Jesus?  It's an important step of obedience!  Baptism Sunday is a special celebration at MapleRidge Church where Christians who have not yet done so, may follow the example of Jesus in being baptized as He commanded (Matthew 28:19).  Please join us for this very special Sunday celebration!
Kick-Off Sunday: September 15
Regularly-scheduled programming returns to MapleRidge!  New Sunday School classes; new Sunday Adult Bible Studies; new weekly Bible studies, our Awana program for kids . . .  It all kicks off on this day!  More information will be forthcoming as the date draws near.