MAPLERIDGE CHRISTMAS CONCERT:  Sunday, Dec. 15, 9:00 & 10:45 AM
Celebrate Christmas with MapleRidge Church on Sunday, December 15!  In each of our services we will have music by our adult choir, our handbell choir and our RidgeKids!  It's a wonderful way to be reminded of the reason for this special season of the year:  Jesus!
The Preacher's Daughters in Concert: Dec. 19, 6:30 PM
The Preacher's Daughters — a musical duo from the Twin Cities — will share music from their newest, highly-anticipated Christmas album r — "Sweet Hymns of Joy" — on Thursday, December 19 at MapleRidge Church!  These ladies are powerhouse vocalists who still love the old hymns of our faith.  All are welcome.  A free-will offering will be received for this event.
Christmas Eve @ MapleRidge: December 24, 3:30 & 5:00 PM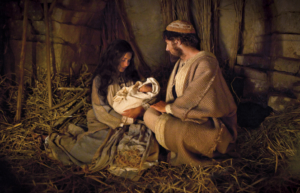 Join MapleRidge Church in worshiping the newborn King before heading off into your family holiday celebrations!
MapleRidge will host two candlelight Christmas Eve services:
3:30 PM (includes a special presentation by our RidgeKids choir and a meditation by Pastor Scott Boles)
5:00 PM (includes music from our adult choir and special holiday music)
We hope you have an opportunity to join us on Christmas Eve for a special time of worship and remembering the reason for the season!