MAPLERIDGE LADIES' TEA:  Saturday, February 22, 3:00 PM
Ladies!  It's time again for the MapleRidge Annual Ladies' Tea!  This year's event will be on Saturday, February 22, at 3:00 PM and will feature Kylee Larson as our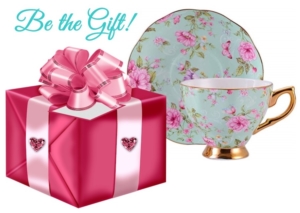 speaker.
Kylee is the Director of Next Steps and Online Ministries at Church at the Crossing in Indianapolis. She graduated from Anderson University's School of Theology in 2010 with her master's in theological studies. She is passionate about inviting every person to the "more" God has for them.
Our theme is "Be The Gift". We'll discover together how to be the hands and feet of Jesus. To have reaching hands, open ears and listening hearts. God can use each of us to be a gift to one another.
The cost for this year's tea is $15.00 payable to MapleRidge Church.  There is a payment box on the wall in the lobby. Please pay as soon as possible and sign up at the information desk.
Remember to invite a friend or seven!