"Remember the former things of old, for I am God, and there is no other; I am God, and there is none like Me, declaring the end from the beginning, and from ancient times things that are not yet done, saying, 'My counsel shall stand, and I will do all my pleasure,'" (Isaiah 46:9-10).
Our Father knows the future. That brings me great comfort, especially in these days of uncertainty through which we are living. He is not sitting on His throne wringing His hands or pacing the throne room muttering, "Oh no! Now what am I gonna do? I didn't see that coming!"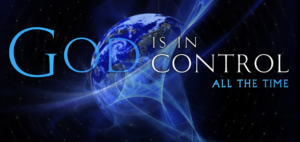 This is also true of our individual lives.
"For I know the thoughts that I think toward you, says the Lord, thoughts of peace and not of evil, to give you a future and a hope," (Jeremiah 29:11).
These words were penned by the prophet Jeremiah, originally to the leaders of of Israel when the people had been exiled in Babylon. But I think we rightly attribute the principle to ourselves, as well, because in Romans, Paul said,
"And we know that all things work together for good to those who love God, to those who are the called according to His purpose," (Romans 8:28).
How could our Father possibly promise that if He didn't know our future and what He has in store for us?
In Psalm 31:15; David wrote, "My times are in Your hand," speaking to God.
Our Father is in control of our world, of our nation, and of your life and mine. Always. He knows where we've been, and He knows where we're going, because He is at the helm. Because of this comforting truth, we can face tomorrow, because He holds the future. He's already there waiting to show us around.
May this give us not only comfort, but courage as we trust our Savior to see us through each day, regardless of what we find when we walk through it.