"These things I have spoken to you, that my joy may remain in you, and that your joy may be full," (John 15:11).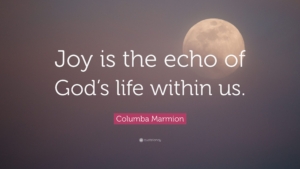 "Until now you have asked nothing in my name. Ask, and you will receive, that your joy may be full," (John 16:24).
"And these things we write to you that your joy may be full," (I John 1:4).
Our Father doesn't just want us to experience joy, He wants us to have lives filled with joy! The word for, "full," used in each of these verses means, "to make replete; to fill up; to perfect." Wow. That's a lot of joy!
How? How do we get His joy?
I think it's a result. I don't think it's something we strive after. It's almost like if we try to have joy . . . If we reach for it as the end goal, it will elude us. So how do we receive His joy, then?
In John 15, Jesus had just explained that we needed to abide in Him by keeping His commandments, i.e., obeying His Word. In I John, it is talking about our fellowship with other believers and with the Father. He also talks about walking in the light.
Joy, you know, is a fruit of God's Spirit in us:
"But the fruit of the Spirit is love, joy, peace, long-suffering, kindness, goodness, faithfulness, gentleness, self-control. Against such there is no law," (Galatians 5:22-23).
So here's my take:
The joy that is ours through Jesus will manifest as we obey His Word and spend consistent time in fellowship with Him. It's a response of His Spirit in and through us as we grow more like Jesus, because Jesus is a Man of joy! Of Jesus, the writer of Hebrews wrote:
"You have loved righteousness and hated wickedness; therefore God, your God, has sent you above your companions by anointing you with the oil of joy," (Hebrews 1:9).
James wrote, "Draw near to God and He will draw near to you," (James 4:8).
If we work at our relationship with our Lord, and we are in fellowship with Him regularly, if we are walking with Him daily, sharing our days — even days often filled with stress, heartache, fear and confusion — He will impart to us His supernatural and abundant joy that is inexplicable to the world around us — maybe even sometimes to us! He wants us to have His joy in great abundance!