"Knowing this, that our old man was crucified with Him, that the body of sin might be done away with, that we should no longer be slaves of sin. For he who has died has been freed from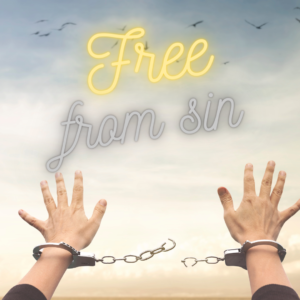 sin," (Romans 6:6-7).
"But God be thanked that though you were slaves of sin, yet you obeyed from the heart that form of doctrine to which you were delivered. And having been set free from sin, you became slaves of righteousness," (Romans 6:17-18).
"But now having been set free from sin, and having become slaves of God, you have your fruit to holiness, and the end, everlasting life," (Romans 6:22).
Three times in Romans 6 Paul says explicitly that we are free from sin. Do we live like we are free from sin?
My study Bible notes that to be freed from sin means to be no longer under its domination and control. In other words, we don't have to sin. At all. Do we? Yeah, we do. Why? According to the Apostle Paul it's because we are still submitting to it:
"Do you not know that to whom you present yourselves as slaves to obey, you are that one's slaves whom you obey, whether of sin leading to death, or of obedience leading to righteousness?" (Romans 6:16).
It's like we have a kind of spiritual Stockholm Syndrome. We know we're sinners and we can't help it. It's our fallen condition so we might as well just deal with it until we get to Heaven.
But that is not how Paul portrays it. Paul says, basically, "You have a choice, now. Choose righteousness!"
If we didn't have a choice, why would God command us to be holy?
"But as He who called you is holy, so be holy in all your conduct, because it is written, 'Be holy, for I am holy," (I Peter 1:15-16).
This isn't a choice we have; it's a command from our Father.
Although Paul confesses that he wrestles with this himself in Romans 7, his conclusion is that Jesus, in his death and resurrection, has delivered him from the law of sin and death (v. 25).
How?
By the power of His Holy Spirit.
When we come to saving faith in Jesus, many things happen. One thing that happens is that the shackles of our sin nature fall off! Another thing that happens, simultaneous with that, is that we are given God's Holy Spirit to indwell us. Jesus says He will never leave us (John 14:16). So we are free from — no longer slaves of — our sin nature, and we have been empowered by the very Spirit of the living God! Honestly, none of us has to sin as born again children of the living God. We have the very power that raised Jesus from the dead at our disposal (Ephesians 1:19-20).
Like a prisoner who has acquired Stockholm Syndrome, we must be deprogrammed to realize our freedom in Christ! How does that happen?
It happens as we spend time reading, studying and memorizing God's Word. This is sometimes called, "the pursuit of holiness" or, "progressive sanctification." The more immersed we are in God's Word, the more His Spirit can "deprogram" us from thinking we must succumb to our sin nature and we will find that increasingly we choose to live in a way that pleases God and say "No!" to our sin nature!
So, too, we will find that obeying God's commands becomes easier as we depend on God's Spirit in us to help us obey as "slaves of righteousness" (Romans 6:18). We now have all the power we need to obey every command our Father has given us. Like this one:
"But now you yourselves are to put off all these: anger, wrath, malice, blasphemy, filthy language out of your mouth. Do not lie to one another, since you have put off the old man with his deeds, and have put on the new man who is renewed and now is according to the image of Him who created him," (Colossians 3:8-10).
Scripture is filled with straightforward commands such as this! And the power to obey them is always at our disposal. It would be absolutely unfair for God to command us to cease from sinful behavior and to act with godly behavior if we were incapable of obeying. But He has given us all we need to fulfill His commands:
"As His divine power has given to us all things that pertain to life and godliness, through the knowledge of Him who called us by glory and virtue, by which have been given to us exceedingly great and precious promises, that through these you may be partakers of the divine nature, having escaped the corruption that is in the world through lust," (II Peter 1:3-4).
We are partakers of the divine nature! Did you see that? That is God's Holy Spirit in us who empowers us to act in godliness!
May God, by His Spirit, speak to each of us through His Word to show us just how free we are to turn away from every sinful behavior, thought and word, and to obey His commands to live lives that please Him! Jesus, through His death on our behalf — and His resurrection — has conquered the power of sin in our lives! We are truly free!
And, "if the Son makes you free, you shall be free indeed" (John 8:36)!