"Oh, give thanks to the Lord, for He is good! For His mercy endures forever!" (I Chronicles 16:34; Psalm 107:1; 118:1; 136:1).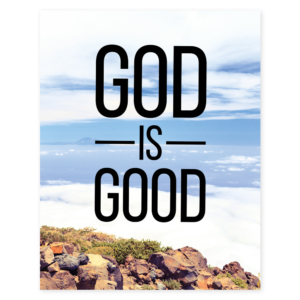 What does it mean that God is good?
To say that God is good means that God always acts according to what is right, true, holy and just per one dictionary definition.
Right means what God does is fair and impartial.
"For there is no partiality with God," (Romans 2:11).
True means He acts in accordance with facts and reality.
"And we know that the Son of God has come and has given us an understanding, that we may know Him who is true; and we are in Him who is true, in His Son Jesus Christ," (I John 5:20)
Holy means to be set apart. In the case of God, He is separate or cut off from everything that is sinful and evil. He cannot tolerate it. There is no trace of evil in His character.
"Who shall not fear You, O Lord, and glorify Your name? For You alone are holy. For all nations shall come and worship before you," (Revelation 15:4).
The word "just" is defined as honest or lawful.
"If we confess our sins, He is faithful and just to forgive us our sins and to cleanse us from all unrighteousness," (I John 1:9).
Why is it just for God to forgive our sins? Because Jesus has already paid for them. It is, therefore, lawful for Him to do so.
All of these are encompassed in the idea that God is good. He is good!
Look at what Paul said to the Romans:

"Or do you despise the riches of His goodness, forbearance, and long-suffering, not knowing that the goodness of God leads you to repentance?" (Romans 2:4).
It is God's goodness — in all of its facets — that brings us to the place where we recognize our sinful state and acknowledge it so that He can pour out His forgiveness on us through Jesus. This was Jesus' point when He said,
"No one can come to me unless the Father who sent Me draws him and I will raise him up at the last day," (John 6:44).
And remember what Paul told the Ephesians?
"For by grace you have been saved through faith, and that not of yourselves; it is the gift of God," (Ephesians 2:8).
Even the faith we have to believe is gifted to us. We cannot muster it on our own. God gives it to us so we can believe.
And that gift — in the person of His Spirit — then remains with us forever!
"And I will pray the Father, and He will give you another Helper, that He may abide with you forever – the Spirit of truth, whom the world cannot receive, because it neither sees Him nor knows Him; but you know Him, for He dwells with you and will be in you," (John 14:16).
And David wrote:
"Teach me to do Your will, for You are my God; Your Spirit is good. Lead me in the land of uprightness," (Psalm 143:10).
God enables us to come to Him, drawing us by His Spirit; and then He leaves His Spirit in us to help us learn truth and gives us the ability to say no to sin (Romans 6).
Indeed, He is so very good to me and you! Let's celebrate that truth today.