"Be my strong refuge, to which I may resort continually; You have given the commandment to save me, for You are my rock and my fortress," (Psalm 71:3).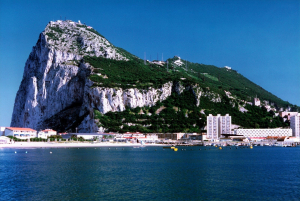 The Rock of Gibraltar is an actual rock that stands 1,397 feet high on a very narrow peninsula at the southern edge of Spain. It overlooks the Strait of Gibraltar, an overseas territory of the United Kingdom. This peninsula has always been important as a heavily-fortified British air and naval base because at this strait the Mediterranean Sea narrows to only nine miles wide, meaning whoever controls the peninsula can see all the ships that enter the Mediterranean Sea from the Atlantic Ocean. It is said that since the 18th century, Gibraltar has been a symbol of British naval strength, and is commonly known in that context as, "The Rock."
Apparently this peninsula and, "The Rock," were very important during World War II. During the war, the people of Gibraltar were moved to different parts of the world– like Jamaica — so they could be protected from the war, and also leave The Rock for the British soldiers. The British actually bored long tunnels inside The Rock itself. The Rock even had a hospital and living areas for the soldiers! What more could you ask for than a solid rock fortress to live in and from which to conduct war planning and defense?
This is sounding awfully familiar . . .
"The Lord is my rock and my fortress and my deliverer; my God, my strength, in whom I will trust; my shield and the horn of my salvation, my stronghold," (Psalm 18:2).
Whoa. Did that verse just bust wide open for me! How about you?
"The Lord is my rock and my fortress and my deliverer; the God of my strength, in whom I will trust; my shield and the horn of my salvation, my stronghold in my refuge," (II Samuel 22:2-3).
"In God is my salvation and my glory; the rock of my strength, and my refuge, is in God. Trust in Him at all times, you people; pour out your heart before Him; God is a refuge for us," (Psalm 62:7-8).
Our Father is called a rock, fortress, stronghold, and shelter repeatedly in Scripture. I think from now on — knowing about the Rock of Gibraltar — I will have an amazingly different picture in my mind of those verses. Notice that last passage in Psalm 62. It describes God as our rock, fortress, stronghold . . . And then says something very important: "Trust in Him at all times."
What if, during World War II, the British soldiers' barracks were around the outside of The Rock instead of inside it? How secure would that have been?
No, they were nestled inside The Rock, completely trusting that it would shelter them from attack, and giving a secure place from which to treat their wounded.
And that is exactly where we need to stay always in God our Father, most especially during the storms of life, when the enemy of our souls attempts to bludgeon us with temptations and doubts and fears, and the troubles of life come crashing in around us. Our instinctive behavior should be to run — not stroll — run to the Rock of our salvation Who is, indeed, always with us (Hebrews 13:5).
Picture in your mind the Rock of Gibraltar (or, just check out these amazing photographs  and these of the inside. It's massive. Walk inside of it and it's an entirely secure retreat from not just enemy combatants, but from any type of storm that may arise in that area of Spain. You probably wouldn't even know a storm was raging!
Then think of our Heavenly Father and know that nestled inside of Him we are ever so much more secure, even while so many storms rage around us in our personal lives, and also in our world at this very moment. Meditate on this. Let His Spirit drive this truth deep into your soul. We all need to rest in this truth:
He who dwells in the secret place of the Most High shall abide under the shadow of the Almighty. I will say of the Lord, 'He is my refuge and my fortress; my God, in Him I will trust," (Psalm 91:1-2).