"I have learned in whatever state I am, to be content," (Philippians 4:11b).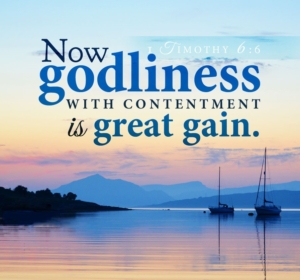 What does it mean to be content?
Here's explanation that I found insightful: "Contentment, or being content, is about peaceful satisfaction. It involves appreciating what you have and where you are in life, rather than wishing things were different . . . That's because contentment celebrates the good in your life while simultaneously working through the bad."
Do you know where Paul was when he wrote the words above? He was in prison (Philippians 1:13). Unjustly imprisoned. He was ultimately facing death by execution! And yet he writes,
"Not that I speak in regard to need, for I have learned in whatever state I am, to be content: I know how to be abased, and I know how to abound. Everywhere and in all things I have learned both to be full and to be hungry, both to abound and to suffer need. I can do all things through Christ who strengthens to me," (Philippians 4:11-13).
This wasn't the only time Paul mentioned being content. To the Corinthians he said:

"But He said to me, 'My grace is sufficient for you, for My power is made perfect in weakness.' Therefore I will boast all the more gladly of my weaknesses so that the power of Christ may rest upon me. For the sake of Christ, then, I am content with weaknesses, and insults, hardships, persecutions, and calamities. For when I am weak, then I am strong," (II Corinthians 12:9-10 ESV).
This may have been one of Paul's early lessons in contentment. He begged for the thorn to be removed, and God graciously said, "No, I have something better." It's often hard for we humans to consider something better than a simple, peaceful existence without problems. But God's thoughts and ours differ dramatically (Isaiah 55:8).
To Timothy Paul said:
"Now godliness with contentment is great gain. For we brought nothing into this world, and it is certain we can carry nothing out. And having food and clothing, with these we shall be content," (I Timothy 6:6-8).
I'm still learning this lesson personally but I think, by God's grace, I'm making headway. Last year was a stark learning curve for me, and it's continued this year, but slowly I'm gaining more peace and, I think, perspective. Things I've greatly anticipated were cancelled. I had to disappoint people I love because of circumstances beyond my control. People I care about died and couldn't be celebrated. I missed friends I couldn't see because I couldn't get to them. Lots and lots of tears. There are still tears, at times, but I know my Father knows and I trust Him for wisdom and direction. And I know He cares and knows my distress.
Are you content today? Or, maybe a better way to phrase that is, is there anything today with which you are discontent? I don't know your situation, but I know many people are in dire straits right now. Many people have lost their jobs. Many people are sick. Many have lost loved ones. Maybe you had plans to build a home and move, and those plans have been dashed. Maybe you're in need (or want) of a new car or were looking forward to a special vacation and now it doesn't look likely. I get it.
When I was first married, I remember often saying to Father, "I know we don't have much money, but we have love and that's all we need." Hey, newly married couples are very often not rich! We lived in a mother-in-law apartment that could flood when it rained too hard or the snow melted. But we had each other and we had our Savior! What more could we need?
Paul is right. We brought nothing into this world and we're taking nothing out. Nothing, that is, except the love of relationships we have formed. Regardless of a pause in any of those relationships due to "death," we who know Jesus know we will soon reconnect. So I, for one, am going to try and hone in on those relationships and not be so consumed by expectations I have or things I perceive I need. One day at a time, one step at a time, trusting Father and showing love and care to those around me. How about you?