"What then shall we say to these things? If God is for us, who can be against us?" (Romans 8:31).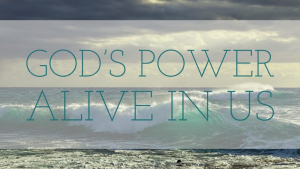 "You are of God, little children, and have overcomes them, because He who is in you is greater than he who is in the world," (I John 4:4).
If you know Jesus personally, God isn't just for you, He's in you! Have you considered that? You are a vessel He lives in, and He is there to teach you (John 14:26), to comfort you (John 15:26), to guide you toward the truth (John 16:13), to secure you for eternity (Ephesians 1:13-14), and to empower you (Acts 1:8). He does much more, but this list is a good start for study purposes.
Let's land on that last point, briefly. He empowers us. What, exactly, does that mean?
Well, that word used in Acts 1:8 for the word translated power is, "dunamis." It's the word from which we have received the word "dynamite." It means, "force (literally or figuratively); specially, miraculous power (usually by implication, a miracle itself):—ability, abundance, meaning, might, (worker of miracles), power, strength, violence, mighty (wonderful) work." (Strong's Concordance).
That power is in you. That's what Jesus said to His disciples of the Holy Spirit who He had told them previously would indwell them — just like He does us today.
This word is used in many intriguing places in Scripture to communicate to us the amazing potential, strength, and energy we have available to us to live for and serve God.
Paul told the Ephesians that he gave thanks for them and prayed, in part,
"That the God of our Lord Jesus Christ, the Father of glory, may give to you the spirit of wisdom and revelation in the knowledge of Him, the eyes of your understanding being enlightened that you may know what is the hope of His calling, what are the riches of the glory of His inheritance in the saints, and what is the exceeding greatness of His power toward us who believe, according to the working of His mighty power which He worked in Christ when He raised Him from the dead and seated Him at His right hand in the heavenly places," (Ephesians 1:17-20).
Paul wanted them to understand the immense power they held as children of the God of the universe. He brought it up again in the third chapter:
"Now to Him who is able to do exceedingly abundantly above all that we ask or think, according to the power that works in us," (Ephesians 3:20).
Same word: "dunamis".
Ever watched an old western and somebody blew up train tracks or something using dynamite? Crass example, but that kind of power exits inside you as a child of the living God! And we wonder why we are unable to live lives free from temptation, sin, weakness. We aren't tapping into that power! We must strive for intimate communion with our Lord to lay hold of this power that is always at our disposal.
This word, "dunamis" is used in many places in Scripture. I challenge you to study it to find out about the power that is — right now — in your possession because of your relationship with Jesus. Pray and ask Father to show you. He wants you to know. It's a prayer He'll answer!