"Yea, though I walk through the valley of the shadow of death, I will fear no evil; for You are with me; Your rod and Your staff, they comfort me," (Psalm 23:4).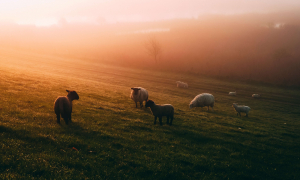 "Peace I leave with you, My peace I give to you; not as the world gives do I give to you. Let not your heart be troubled, neither let it be afraid," (John 14:27).
Our Shepherd is always with us. He is always guiding. He is always aware of our surroundings. When He hears us cry out to Him, He is immediately there to help us in whatever way we need help. Just as described in Psalm 23.
I get the picture, in this psalm, of a lush valley full of green grass with small, colorful wildflowers. A clear, small pond fed from a quiet stream provides refreshment, and there are a few trees providing shade for a short nap now and then.
But off along the edges of this valley are bramble bushes and rocky cliffs. Behind the bramble, a pack of wolves may lurk, waiting, salivating for an opportunity to attack one of the sheep and drag off the carcass for a tasty meal. The job of the shepherd is to keep his eyes peeled for danger to his sheep. The part of the sheep is to stay close to the shepherd where there is always peace and safety. No, that doesn't always happen, but that's the way it's supposed to work.
We have bramble, cliffs and wolves in our lives. We have sights and sounds, temptations, and trials that may lure us away from our Shepherd. Sometimes we may get caught in a bramble bush of sin or stuck on a ledge of trial that we feel there's no escape from — until we call out and our Shepherd appears. His very presence brings peace to our frightened heart and He knows exactly what to do to get us off that ledge and back to the security of the flock in the valley.
Jesus spoke a number of times about peace. There is always peace in His presence, regardless of the dark nights we experience in our lives when the dangers seem closer and more powerful and terrifying. For us these may be a terminal illness or a fractured relationship with a friend or loved one. The loss of income quickly brings panic. And obviously the complete turmoil our world is in at present easily brings distress. Whatever your valley, our Shepherd provides sustenance and tranquility in the midst of it all if we choose to seek Him in the challenging times and take His words and direction to heart.
"These things I have spoken to you that in Me you may have peace. In the world you will have tribulation; but be of good cheer, I have overcome the world," (John 16:33).
"For this cause everyone who is godly shall pray to You in a time when you may be found; surely in a flood of great waters they shall not come near him. You are my hiding place; You shall preserve me from trouble; You shall surround me with songs of deliverance. I will instruct you and teach you in the way you should go; I will guide you with my eye," (Psalm 32:6-8).
"Be anxious for nothing, but in everything by prayer and supplication, with thanksgiving, let your requests be made known to God; and the peace of God, which surpasses all understanding, will guard your hearts and minds through Christ Jesus," (Philippians 4:6-7).
Today, as you read this, you are aware of any turmoil that is troubling your soul — dangers lurking near against which you have little defense. I encourage you to hand the overwhelming situation to our Savior, the Shepherd. Thank Him for handling it and for giving you wisdom for whatever actions you have to take.
Maybe the only action is to trust Him. Tell Him you choose to do that, even if you don't feel like it. Then wait, and I promise you, when you let go, thank Him and choose to trust no matter what, His Spirit will bring you that wonderful peace that is beyond our human ability to comprehend. It will protect your heart and your mind so you can rest in His ability to handle whatever situation that concerns you. You will sense the place of still waters and be able to rest in the soft, sweet grass of green pastures where your Shepherd is in complete control.