"Blessed [O the happiness of the man whose] . . . delight is in the law of the Lord, and in His law he meditates day and night," (Psalm 1:1-2, portions).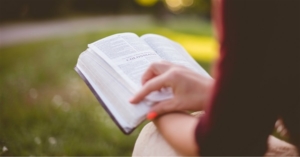 "I have not departed from the commandment of His lips; I have treasured the words out of His mouth more than my necessary food," (Job 23:12).
"Oh, how I love your law! It is my meditation all the day," (Psalm 119:97).
"This book of the law shall not depart from your mouth, but you shall meditate in it day and night, that you may observe to do according to all that is written in it. For then you will make your way prosperous, and then you will have good success," (Joshua 1:8).
"These [the believing Jews in Berea] were more fair-minded than those in Thessalonica, in that they received the word with all readiness, and searched the Scriptures daily to find out whether these things were so," (Acts 17:11).
Do you spend time every day in God's Word, reading, studying and allowing His Spirit in you to teach you and draw you into closer fellowship with your Heavenly Father? On a daily basis we need to open up the Word of God to feed our souls. It is, as Job implies, more vital to our well being than the physical food we eat that is necessary to sustain our physical life.
Why?
God wants us to grow more and more into the character likeness of Jesus. He uses His Word coupled with His Spirit in our life to accomplish this. The Scriptures:
HELP US GROW AND MATURE SPIRITUALLY
"As newborn babes, desire the pure milk of the word, that you may grow thereby," (I Peter 2:2)
TEACH, CORRECT AND TRAIN US
"All Scripture is given by inspiration of God, and is profitable for doctrine, for reproof, for correction, for instruction in righteousness, that the man of God may be complete, thoroughly equipped for every good work, (II Timothy 3:16-17).
GIVE DIRECTION AND GUIDANCE
"You word is a lamp to my feet and a light to my path," (Psalm 119:105).
PROVIDE HOPE
"For whatever things were written before were written for our learning, that we through the patience and comfort of the Scriptures might have hope," (Romans 15:4)
CLARIFY OUR THOUGHTS AND MOTIVES
"For the word of God is living and powerful, and sharper than any two-edged sword, piercing even to the division of soul and spirit, and of joints and marrow, and is a discerner of the thoughts and intents of the heart," (Hebrews 4:12).
BRING US PEACE
"Great peace have those who love your law, and nothing causes them to stumble," (Psalm 119:105).
GIVE US WISDOM
"I understand more than the ancients, because I keep your precepts," (Psalm 119:100).
Well, that's a start, anyway. But these wonderful benefits are only available to us if we actually get into God's Word and read, study and memorize it. It won't affect us by osmosis.
I found a couple of quotes of two "famous" Christians, recently, that speak to this each in a specific way:
A.W. Tozer, an American Christian pastor and author once said, "The Word of God well understood and religiously obeyed is the shortest route to spiritual perfection.  And we must not select a few favorite passages to the exclusion of others.  Nothing less than a whole Bible can make a whole Christian."  Perfection? you say.  Does not God command us to be perfect as our Heavenly Father is perfect (Matthew 5:48)?  Indeed, he does.  We will finally attain it when we reach Heaven, but He wants us working on it now — and that happens as we immerse ourselves in God's Word!
Christian actor and evangelist Kirk Cameron is quoted as saying, "Put your nose into the Bible every day. It is your spiritual food. And then share it. Make a vow not to be a lukewarm Christian." And THAT is what I hope we can all grasp. It's simple and profound. We just need to DO IT.
We live in an insanely busy world. From the moment our feet hit the floor in the morning we're off and running with errands, meetings, work, church, meals, exercise, appointments . . . until we crash in bed at the end of the day. But may I submit to you that either before all that craziness begins (which is my personal preference) or after it's all over and before you actually crawl into bed at the end of the day, you need to take time to spend with the Lord in His Word so He can bring to you these gifts and help mold you into Christ-likeness.
I challenge you — if spending time in God's Word isn't a regular part of your day, determine to make it so. It is provided to us as a love letter, a map, wisdom, and a vehicle through which God's Spirit transforms us into the likeness of our Savior. But that can happen ONLY if we regularly spend time in it.