"Are not five sparrows sold for two copper coins? And not one of them is forgotten before God. But the very hairs of your head are all numbered. Do not fear therefore; you are of more value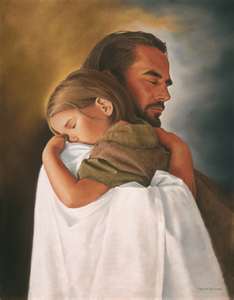 than many sparrows," (Luke 12:6-7).
So Abraham rose early in the morning, and took bread and a skin of water; and putting it on her shoulder, he gave it and the boy to Hagar, and sent her away. Then she departed and wandered in the Wilderness of Beersheba . And the water in the skin was used up, and she placed the boy under one of the shrubs. Then she went and sat down across from him at a distance of about a bow shot; for she said to herself, 'Let me not see the death of the boy. So she sat opposite him, and lifted up her voice and wept. And God heard the voice of the lad . . ." (Genesis 21:14-17a).
How many instances like this are recounted in Scripture and we just read over them without thought, possibly because we take God's omniscience and intervention for granted? He is always there, always aware, always working in the meanest of circumstances.
Think about the woman with the issue of blood. (Matthew 9:20-22). We only know her thoughts because they are recorded. But God knew, and healed her.
Consider Paul out on the sea when a storm comes up and threatens to tear the boat apart — did, in fact, tear it apart (Acts 27:13-44). In that instance, an angel sent by God spoke directly to Paul and saved every last soul on the ship from pending death by drowning.
What about Nehemiah when he was so distraught over the state of his beloved homeland that he couldn't mask the anxiety on his face as he served wine to King Artaxerxes (Nehemiah 2:1-8)? God knew Nehemiah's thoughts, heard his quick, silent prayer, and prepared the king to be understanding of Nehemiah's concerns.
Whatever circumstances we face, and whether we tell anyone else about them, our Heavenly Father is well aware of what's going on. And, He cares. It often overwhelms me that the God of the universe is concerned about the most minute issue in my insignificant life and how to address it. But He is concerned and He always knows exactly what to do.
Today, I simply want to remind you of this fact, and also remind you that examples of His attention and care are littered throughout Scripture. All we have to do is pay attention to see it. The evidence of God's awareness and intervention abounds. If we think about it, it abounds in our own life as well. Reflect on the last day, the last week, the last month. Circumstances, solutions that we may not even have considered as from God can rightly be attributed to Him — the timing of an appointment or the rescheduling of one. A thought that brought you to a specific, important decision. The reconciliation in a relationship.
When we call, He answers. When we don't call, when it hurts too much to acknowledge it, He knows our heartache and sees our tears, and takes action, whether we recognize it or not at the time. But it is better, always, to stay in communication with Him and acknowledge His care and His action on our behalf with gratitude, even if all we know for sure is that He is near and is aware of what's happening.
I encourage you to always remember and heed these true words:
"Casting all your care upon Him, for He cares for you," (I Peter 5:7).