"Therefore if the Son makes you free, you shall be free indeed," (John 8:36)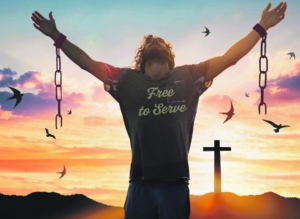 But God be thanked that though you were slaves of sin, yet you obeyed from the heart that form of doctrine to which you were delivered. And having been set free from sin, you became slaves of righteousness," (Romans 6:17-18).
"Who Himself bore our sins in His own body on the tree, that we, having died to sins, might live for righteousness—by whose stripes you were healed," (I Peter 2:24).
When we come to faith in Jesus and are forgiven by God, so many things happen in that instant and we are really unaware of it all at the moment. Two things that happen are that (1) we are healed from our sin; and (2) we are freed from our state of slavery to sin.

We are healed from the curse of sin. In I Peter 2 above, the context is speaking of being healed of our nature to sin. Peter was quoting directly from Isaiah 53 where the prophet wrote that "He was wounded for our transgressions and He was bruised for our iniquities," and then ends with, "by His stripes we are healed." This very clearly shows that we are healed from our sin nature through Jesus' sacrifice.
Matthew 8:16-17 also refers to Isaiah 53 when sharing the healing ministry of Jesus. Jesus wasn't actually bearing sin at this event, but He was bearing some of the consequences of sin, thus showing Himself to be the true Messiah prophesied by Isaiah. In healing their physical infirmities he proved His ability to also heal their spiritual infirmities (Mark 2:8-12).
We are free because we have "died to sins," meaning we are not bound by (i.e., no longer under the control of) our sin nature, but are able — free! — to obey God and begin to grow into the likeness of Jesus as we read and follow His Word.
It is at this point that we can begin to ask our Father for the help we need to let go of sins that have oppressed us because we are not bound by or trapped in them any further. We have the power to say no:
"Likewise you also, reckon yourselves to be dead indeed to sin, but alive to God in Christ Jesus our Lord. Therefore do not let sin reign in your mortal body, that you should obey it in its lusts," (Romans 6:11-12).
This is the practical side of our walk with God.
These are two glorious truths of our life in Jesus Christ that we healed of our sin nature and we are free from the power and control of sin!
Rejoice in these truths today. They are more eternally significant that we can possibly realize!