"My Father's house has many rooms; if that were not so, would I have told you that I am going there to prepare a place for you? And if I go and prepare a place for you, I will come back and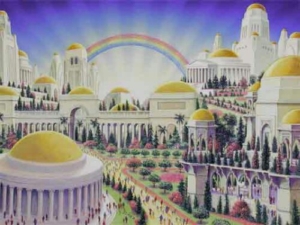 take you to be with me that you also may be where I am," (John 14:2-3).
Home.
When you see that word, what picture does it conjure up in your mind? What emotions flood your heart? This side of Heaven not everyone's home is a haven. I went through that kind of existence as a youth. Home was transitory, filled with strangers, not necessarily welcoming. But for many – I hope most – the idea of home is a welcome, blessed thought.
Author Randy Alcorn reminds us that home is about comfort. "It's a place where we can put on jeans and a sweatshirt and throw ourselves on the couch to relax. It's a place we want to be . . . Home is our reference point, what we always come back to. No matter how much we enjoy our adventures away, we anticipate coming home. Knowing we can come home is what keeps us going . . . Home is where friends come to visit. It's where we putter, plant gardens, read our favorite books, and listen to music we enjoy.
"Christian slaves sang of 'goin' home to live with God' and a chariot 'comin' fo' to carry me home,'. Christians have always thought of going to Heaven as going home."
There is so much to this promise of His! In John 14, Jesus was eluding to a part of the Jewish marriage ceremony where the groom, having prepared a home for his bride, came at an unexpected time, usually at night, and whisked her away to the place in his father's house where he had created a home for her. And so has Jesus done for us. He's gone to prepare our Home.
First of all, our Savior, our Bridegroom, our dear Friend who has stood with us through all the challenges of this life will be there. Wherever He is will be Home. Right?
But besides His presence, our Home is a place beyond our ability to imagine! As the apostle John described it, in part:
"The construction of its wall was of jasper; and the city was pure gold, like clear glass. The foundations of the wall of the city were adorned with all kinds of precious stones . . . The twelve gates were twelve pearls: each individual gate was of one pearl. And the street of the city was pure gold, like transparent glass," (Revelation 21:18, 19, 21).
Sometimes I try and imagine how brilliant the colors of the flowers will be, how blue the sky will appear, how clear and pure the River of Life will be as it gurgles through the city. But I always fail!
Randy Alcorn says, again, "Home as a term for Heaven isn't simply a metaphor. It describes an actual, physical place –- the place promised and built by our bridegroom; a place we will share with loved ones; a place of fond familiarity and comfort and refuge . . . Meditating on Heaven is a great pain reliever. It reminds us that suffering and death are temporary conditions. Our existence will not end in suffering and death –- they are but a gateway to our eternal life of unending joy. The biblical doctrine of Heaven is about the future, but it has tremendous benefits here and now. If we grasp it, it will shift our center of gravity and radically change our perspective on life."
How often do you think about Heaven? Do you think of it as your true Home? Do you anticipate getting there and seeing Jesus face-to-face? Do you wonder what your room will look like? Do you wonder what it will be like to see your mom or dad, a sibling who went before you or a child or grandchild or dear friend you miss? Do you wonder, as I do, what the wedding supper of the Lamb will really be like? How will there be a table big enough? Ever wondered about that? What will it be like to not fight a sin nature? How will I/you reign with Jesus? What will that look like? As you can see, I spend plenty of time contemplating this! What a hope we have!
I challenge you, today, to take time to think about your Heavenly Home and allow those thoughts to transform you and provide you with great joy and excitement! Jesus is building this place just for us. I bet knowing how much we anticipate being there with Him fills His heart with joy, too!