"Let this mind be in you which was also in Christ Jesus, who, being in the form of God, did not consider it robbery to be equal with God, but made Himself of no reputation, taking the form of a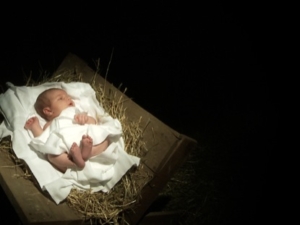 bondservant, and coming in the likeness of men. And being found in appearance as a man, He humbled Himself and became obedient to the point of death, even the death of the cross," (Philippians 2:5-8).
One word comes rushing to my mind as I listen to the beloved Christmas carol, "Away In a Manger": humility.
Often I can read a passage a couple dozen times and then all of a sudden something in it leaps off the page at me. Have you been through a Bible study or heard a sermon series on characteristics/attributes of God? Have you ever heard humility mentioned as one of His defining characteristics? And yet, it is! The Bible says so!
It is the humility of our God that allowed Him to follow through with a plan for our salvation that had Jesus born not to a princess in a royal palace, but to a young teenager of modest means. Due to circumstances beyond her control — but completely within God's control and design — this young girl was pretty much forced to have her baby away from all family, save her husband, in a strange city where there weren't even adequate accommodations, compelling this couple to retreat to a stable where the livestock were housed. The King of all creation laid His head on hay in a feeding trough where cattle were ate their meals! And that was His plan!
The phrase in Philippians 2 that reads, "did not consider it robbery to be equal with God," is translated in the Amplified Bible as, "did not think this equality with God a thing to be eagerly grasped or retained." Our Lord Jesus wasn't insecure in His position of the Godhead, and afraid of losing His station. He willingly, humbly renounced His privileges [not His deity] as a member of the Godhead for a time, and took upon Himself the form of a bondservant.
What is a bondservant? Basically, a slave. Interestingly, in the era when Jesus walked the earth the term bondservant or slave could refer to someone who voluntarily served others. That fits Jesus, does it not?
And what privileges, specifically, did Jesus give up when He chose to enter our time and space?
Heavenly glory: While on earth He gave up the glory of a face-to-face relationship with God and the continuous outward display and personal enjoyment of that glory (John 17:5).
Independent authority: During His incarnation Christ completely submitted Himself to the will of His Father (Philippians 2:8; Matthew 26:39; Hebrews 5:8).
Divine prerogatives: He set aside a voluntary display of His divine attributes and submitted Himself to the Spirit's direction (Matthew 24:36; John 1:45-49).
Eternal riches: While on earth Christ was poor and owned very little (II Corinthians 8:9)
A favorable relationship with God: He felt the Father's wrath for human sin while on the cross (Matthew 27:46: II Corinthians 5:21).
In an article entitled, "The Humility of God," it says, "Humility is also the practice of expressing oneself in the spirit of deference or submission. This was the attitude of our blessed Savior, Jesus Christ, as He walked among men [Matthew 11:29]. He did not come to be served but to serve [Matthew 20:28]. He was the anointed King, yet He washed His disciples' feet [John 13:1-17]. He was equal with God, yet He gave His life for us [Philippians 2:5-8]. Humility borne of love was the defining characteristic of His whole life. Yet He did nothing by Himself; He only did what He saw his Father doing [John 5:18-18, 30]. Jesus perfectly portrayed God's character to us [Colossians 1:19-20 & 2:9]."
A character of, in this discussion, humility.
So when God commands us to, "Humble yourselves in the sight of the Lord, and He will lift you up," (James 4:10), and, "Humble yourselves therefore under the mighty hand of God, that He may exalt you in due time," (I Peter 5:6), He (amazingly) isn't asking us to do anything He hasn't already done as our example. And so is the command, then, in Philippians 2 when Paul says, "Let this mind[set] be in you which was also in Christ Jesus," (Philippians 2:5) and, "He who says he abides in Him ought himself also to walk just as He walked," (I John 2:6).
In many different ways Jesus displayed humility for us throughout His life here on earth. It began the moment He was born — the King resting His head on a bed of straw — and reached it's peak the day He submitted Himself to death on a cross for your sin and mine.
Jesus, I know of no other king, no other lord, no other person of means who would divest themselves of such honor and stature for me and to the extent You did. Thank you. I need your help to follow in Your footsteps — not to think of myself more highly than I ought to, but to observe Your perfect example of humility and surrender to your Holy Spirit to make that character trait of yours a reality in my life. Please work that in me, I pray. I can't do it without You.