"For whom He foreknew, He also predestined to be conformed to the image of His Son, that He might be the firstborn among many brethren," (Romans 8:29).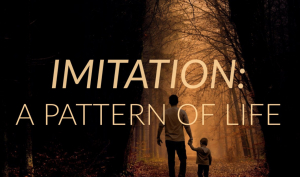 God's ultimate desire is for us to become just like Jesus. I take it that this means, in great measure, that we become increasingly more like Him in His character — which, by the way, includes being devoid of sin. I perceive that look of shock on your face. But tell me, why would God give us a command if He knew we couldn't fulfill it? Jesus Himself said it:
"Therefore you should be perfect, just as your Father in heaven is perfect," (Matthew 5:48).
Paul said it this way:
"Therefore be imitators of God as dear children," (Ephesians 5:1).
He then proceeds to outline how to do that in the verses that follow.
He also told the Colossians that he wanted to "present every man perfect in Christ Jesus," (Colossians 1:28).
That is the standard. It's the goal. It's what Father wants us to reach for as we draw closer to Him in this life. We have His Word and His Spirit to help us.
My favorite preacher, Dr. John MacArthur, says this about Matthew 5:48, quoted above:
"Christ sets an unattainable standard. This sums up what the law itself demanded (James 2:10). Though this standard is impossible to meet, God could not lower it without compromising His own perfection. He who is perfect cannot set an imperfect standard of righteousness. The marvelous truth of the gospel is that Christ has met the standard on our behalf." And then he references II Corinthians 5:21:
"For He made Him who knew no sin to be sin for us, that we might become the righteousness of God in Him."
We're bouncing, here, between positional righteousness, which we have in Jesus because of His sacrifice on our behalf, and practical righteousness, that is, doing what is right; making obedient and right living a pattern of life. Practical righteousness is when Christians practice their position. It is trusting in God to help us act with discipline to follow His commands, building the "skill" to live in alignment with God's standards by obeying God's Word. Scripture repeatedly admonishes us to pursue what is right.
"But you, O man, of God, flee these things and pursue righteousness, godliness, faith, love, patience, gentleness," (I Timothy 6:11).
Do you see the difference?
But one day, these two forms of righteousness will meet and we will, indeed, be perfected and be like Jesus in every way. God promises us this!
"Beloved, now we are children of God; and it has not yet been revealed what we shall be, but we know that when He is revealed, we shall be like Him, for we shall see Him as He is," (I John 3:2).
In that moment when we first look into the eyes of our Savior we will be completely perfected in body, mind and spirit. Our striving will cease because our sin nature will be eradicated!
I love this promise. And God's Word says — in the very next verse in First John — that, "everyone who has this hope in Him purifies himself, just as He is pure." I think this is because in understanding this coming transformation, we work to please Him now — we strive for practical righteousness — so that when we first look into the eyes of Jesus, He will smile at us and say, "Well done, good and faithful servant." Don't you think so?