"Some trust in chariots, and some in horses; but we will remember the name of the Lord our God," (Psalm 20:7).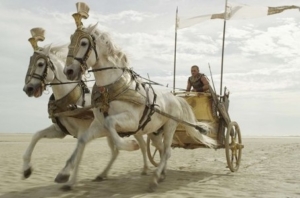 If you think about it, there's a correlation in this verse. It talks about trusting chariots and horses, and in "remembering" God. Remembering what about God? I think, to remember that He is faithful and we can trust Him instead of chariots and horses.
Through Moses God gave an interesting command. He anticipated, centuries in advance, that one day Israel would have a king, and gave instructions for said king. After first defining that the king they choose must come from within the people of Israel, His very next command is,
"But he shall not multiply horses for himself, nor cause the people to return to Egypt to multiply horses, for the Lord has said to you, you shall not return that way again," (Deuteronomy 17:16).
This was the second thing on God's mind when giving His commands about the whole kingdom situation: Don't collect too many horses." A psalmist alluded to this when he said in Psalm 33:
"No king is saved by the multitude of an army; a mighty man is not delivered by great strength. A horse is a vain hope for safety; neither shall it deliver any by its great strength," (vv. 16-17).
What in the world was God's point in placing these things in His Word to His people, Israel? I think this verse begins to clarify His thoughts:
"Woe to those who go down to Egypt for help, and rely on horses, who trust in chariots because there are many and in horseman because they are very strong, but who do not look to the Holy One of Israel . . . " (Isaiah 31:1).
A-ha. God was concerned about horses and chariots because He knew man's predilection to trust in them instead of in Him.
An online Bible study tool I found had this to say about this subject:
"Why did God not want Israel's kings to import warhorses? Armored war horses and the chariots they pulled can be compared to today's tanks, which are devastating when fighting foot soldiers. A nation with this level of war material put their reliance on it, as it made the army such a powerful fighting machine. Why should a nation trust an invisible God to fight its battles when it could see rank upon rank of seemingly invincible horses and chariots.
"God wanted His people to rely on Him. Solomon knew this, since he wrote in Proverbs 21:31, 'The horse is prepared for the day of battle: but deliverance is of the Lord.' The issue of importing horses may have seemed a small thing to Solomon, but it was important to God. From all indications, his compromise in this matter began his slow separation from God."
I just recently got to the point in Scripture in my devotions where Solomon turned from following God in his old age. Very sad after the close relationship they had enjoyed. So likely this one command, disobeyed, led Solomon into a slow dissent away from God. Why? Because he had ceased to trust God and became reliant, in this instance, on horses.
God wanted Solomon to trust Him; rely on Him. Our trust in God is paramount to Him. Direct disobedience to a clear command of God destroyed Solomon's reliance on and relationship with the Creator of the universe and the God of his father, David.
God wants us to trust Him, too. It doesn't matter if we are a powerful king like Solomon, needing to trust God to help us defeat a human enemy, or if it is me needing to trust Him to pay my property taxes or you kneeling by your bed at night to pray for a wayward child or grandchild, or any other situation we can fathom.
God's Word is full of commands about and admonitions regarding trusting Him. It's a huge deal to Him. For example:
"Offer the sacrifices of righteousness, and put your trust in the Lord," (Psalm 4:5).
"The fear of man brings a snare, but whoever trusts in the Lord shall be safe," (Proverbs 29:25).
"Trust in the Lord forever, for in the Lord Jehovah is everlasting strength," (Isaiah 26:4).
"Trust in the Lord with all your heart, and lean not on your own understanding; in all your ways acknowledge Him, and He shall direct your paths," (Proverbs 3;5-6).
Sometimes I think we gloss over a familiar passage like this last one because we're so familiar with it. Look at it again:
How are we to trust the Lord? With all of our heart. Completely. Unreservedly.
What are we not supposed to do? We're not supposed to lean on our own understanding. That is, we're not supposed to trust in our street smarts, or experience or emotional decision-making. We're supposed to decide in advance, purposely, that we will trust in God.
For Solomon, the issue was horses and chariots. For us? It could be a social security check or our IRA or our stocks. It could be a child we're trusting to take care of us or a financial advisor. It could be a basement full of non-perishable food items. Anything that takes our eyes off our Father and places them on someone or something else is comparable to the horses God warned Israel about.
Today I challenge you to consider what in your life you may be trusting other than God in any given situation in your life. Search your heart, as I search mine, to discover if there's is anything you are trusting more than you are trusting God and get that right with Him today. It's very important to our Heavenly Father!