"These things I have spoken to you, that in Me you may have peace. In the world you will have tribulation; but be of good cheer, I have overcome the world," (John 16:33).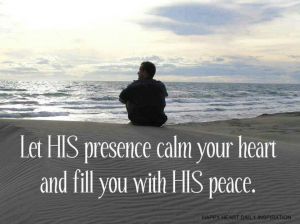 Our world is full of more turmoil, I think, than it has ever been in turmoil. Granted, I wasn't around for either of the world wars, I was clueless at the time of Vietnam. I vaguely remember all the pomp and circumstance of President Kennedy's funeral following his assassination. Still, I think the turmoil is great now, exacerbated by cyber attacks, a worldwide economic shutdown, a virus that has engulfed the world in fear . . .
And then we have our own, private crises. I can't name your crises, but as you read this, they are flooding through your mind. They are real. They are scary and varied and cause all manner of disturbances and agitation in each of our lives individually and in the lives of those around us. This is a result of the sin that permeates our world. It is life as we know it.
But we who know Jesus have a secret weapon for these anxieties: the peace of God provided to us by His Spirit. God's Word flat out commands us not to be anxious and gives us the remedy for it:
"Be anxious for nothing, but in everything by prayer and supplication, with thanksgiving let your request be made known to God; and the peace of God, which surpasses all understanding, will guard your hearts and minds through Christ Jesus," (Philippians 4:6-7).
Anytime we even begin to feel anxious or afraid or agitated in any way with circumstances around us, this is the remedy.
Pray about that which is causing you angst
2. Thank God in faith for what He will doto help you not be anxious and to remedy the situation you are concerned about.
3. His peace will come
I can testify that this has happened repeatedly in my own life. Many times my prayer isn't at all flowery and respectable, either. Since He already knows what's bugging me, it may be something as simple as, "Help, Lord! I can't handle this or my emotions on my own. I need you to take over." I am not kidding you. Within minutes I have sensed my agitation waning and His peace descending. It is there for the asking, as He has repeatedly told us.
"Peace I leave with you, My peace I give to you; not as the world gives do I give to you. Let not your heart be troubled, neither let it be afraid," (John 14:27).
"And let the peace of God rule in your hearts, to which also you were called in one body; and be thankful," (Colossians 3:15).
"Casting all your care upon Him, for He cares for you," (I Peter 5:7).
"You will keep him in perfect peace, whose mind is stayed on You, because he trusts in You," (Isaiah 26:3).
I could go on. It's all over Scripture. Our Heavenly Father wants us to have His peace, and He has made it attainable to us by His Spirit who indwells us upon our salvation.
"But the fruit of the Spirit is love, joy, peace . . ." (Galatians 5:22a)
"And because you are sons, God has sent forth the Spirit of His Son into your hearts, crying out, 'Abba, Father!" (Galatians 4:6).
What is troubling you today? Let go of it. Give it to Jesus. Tell Him you can't handle it and ask Him to remove the anxiety and replace it with His inexplicable peace. I promise you, He'll do it.