"Who [God] has saved us and called us with a holy calling, not according to our works, but according to His own purpose and grace which was given to us in Christ Jesus before time began,"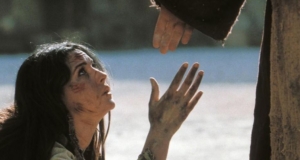 (II Timothy 1:9).
"Moreover the law entered that the offense might abound. But where sin abounded, grace abounded much more," (Romans 5:20).
It's one thing to read the Apostle Paul's theological writings on the grace of God. But the pictures in Scripture that exemplify God's grace are poignant, and easily understood.
The story of the woman taken in adultery and brought to Jesus for condemnation is one such picture. The scribes and Pharisees throw her at Jesus' feet and demand that He make a judgment on her right then and there. They knew what they would do. They knew what the law said. Now they had Him! And He ignored them for a time. At their insistence, He finally stood up, faced them and said,
"'He who is without sin among you, let him throw a stone at her first.'
"And again He stooped down and wrote on the ground. Then those who heard it, being convicted by their conscience, went out one by one, beginning with the oldest even to the last. And Jesus was left alone, and the woman standing in the midst. When Jesus had raised Himself up and saw no one but the woman, He said to her, 'Woman, where are those accusers of yours? Has no one condemned you?'
"She said, 'No one, Lord.'
"And Jesus said to her, 'Neither do I condemn you; go and sin no more.'"(John 8:7-11)
Jesus Christ – the very God and Creator of the universe – saw a woman who was taken in the very act of adultery and flat out forgave her.
Then there's the thief on the cross. One of them ragged on Him, blaspheming Him and hurling insults. But the other, in the moments before his death, recognized Jesus' innocence and his own guilt and said,
"'Do you not even fear God, seeing you are under the same condemnation? And we indeed justly, for we receive the due reward of our deeds; but this Man has done nothing wrong.' Then he said to Jesus, 'Lord, remember me when You come into Your kingdom.'
"And Jesus said to him, 'Assuredly, I say to you, today you will be with Me in Paradise.'" (Luke 23:40-43).
Jesus looked over at a man who had spent his life robbing others, likely living in vile ways and, when asked (while unjustly condemned with him), without pause forgave him and ushered him into God's presence within hours.
These pictures of God's amazing grace in Scripture show us His heart of forgiveness, kindness and unfathomable love. And it isn't just for this woman and man. It's for us, too, no matter who we are, what we've done, where we've been. He looked at me and you, knowing in advance what we would become and how we would fail to live up to His perfect standards, and chose to redeem us from our sinful life and completely eradicate our sin from His memory forever.
But that's not all. He also chose to bestow on us, through no merit of our own, His divine favor for eternity. So, His grace goes well beyond simply forgiving and forgetting. His grace demonstrates a lavish love beyond comprehension, providing us, eternally, status as co-heirs and co-rulers with Him. Hard to comprehend how grand our future is or why we should be provided it.
Paul explained it to the Ephesians like this:
"But God, who is rich in mercy, because of His great love with which He loved us, even when we were dead in trespasses, made us alive together with Christ (by grace you have been saved), and raised us up together, and made us sit together in the heavenly places in Christ Jesus, that in the ages to come He might show the exceeding riches of His grace in His kindness toward us in Christ Jesus. For by grace you have been saved through faith, and that not of yourselves; it is the gift of God, not of works, lest anyone should boast." (Eph. 2:4-9)
I recently read something that relates to this perfectly:
"We are not just saved by grace, so that we can barely make it into heaven. Being saved by grace is only the doorway into all the wonderful things that God has for us. Through the ages to come, throughout all eternity, forever and ever, our Heavenly Father will be expressing to us the riches – the exceeding, immeasurable, limitless, surpassing riches – of His wonderful, unmerited, undeserved, free grace and favor as He reveals and extends to us, His goodness and His kindness.
"He wants to show us His favor and He wants to bless us – not because of any worthiness on our part, but simply because that is the nature of the love of God. He loves the undeserving; He showers blessings on the undeserving. God blesses us because of His nature and in spite of ours. It makes no difference how we feel about it — it is so anyway."
I challenge you to think about these two people – the woman and the thief — and think about yourself, too. Consider that Jesus frankly forgives and what exactly that entails, not just now, but for all of eternity! And may each of us share with Him, then, our gratitude that is so little compared to His grace, which is so magnanimous!