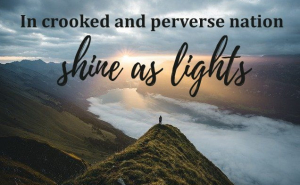 "Then Jesus spoke to them again, saying, I am the light of the world. He who follows Me shall not walk in darkness, but have the light of life," (John 8:12).
"You are the light of the world. A city that is set on a hill cannot be hidden. Nor do they light a lamp and put it under a basket, but on the lamp stand, and it gives light to all who are in the house. Let your light so shine before men, that they may see your good works and glorify your Father in heaven," (Matthew 5:14-16).
Jesus is the light of the world. Jesus says we are the light of the world. Which is it? As my pastor has said in answer to such a question many times, "Yes."
Jesus is the light of the world, and we who have come into a personal relationship with Him have Him indwelling us!
"And because you are sons, God has sent forth the Spirit of His Son into your hearts, crying out, 'Abba, Father!'" (Galatians 4:6).
This is how Paul explains it:
"For you were once darkness, but now you are light in the Lord. Walk as children of light (for the fruit of the Spirit is in all goodness, righteousness, and truth), finding out what is acceptable to the Lord. And have no fellowship with the unfruitful works of darkness, but rather expose them. For it is shameful even to speak of those things which are done by them in secret. But all things that are exposed are made manifest by the light, for whatever makes manifest is light. Therefore He says: 'Awake, you who sleep, arise from the dead, and Christ will give you light," (Ephesians 5:8-14).
Once we each come to faith in Jesus Christ, we are a "light-bearer" to share with the world the truth of the gospel, of living for Jesus, of a greater day that is coming when all who are redeemed will enter the kingdom of God, and those who have rejected God's generous gift will be doomed to eternity apart from Him.
"But if our gospel is veiled, it is veiled to those who are perishing, whose minds the god of this age has blinded, who do not believe, lest the light of the gospel of the glory of Christ who is the image of God, should shine on them . . . For it is the God who commanded light to shine out of darkness, who has shown in our hearts to give the light of the knowledge of the glory of God in the face of Jesus Christ. But we have this treasure in earthen vessels, that the excellence of the power may be of God and not of us," (II Corinthians 4, 6-7).
In each of these passages, the Lord gives concrete examples of how to let our light shine. I always like to understand His wishes practically, so I can do them. Here are a few I took away immediately:
**Don't hide the light: Let people know you are a follower of Jesus without equivocation. (I John 1:7).
**Do good works: Whatever God gives you to do for Him, give Father all the glory; point people to Him. (I Corinthians 10:31).
**Display the fruit of the Spirit: Practice love, joy, peace, long-suffering, kindness, goodness, faithfulness, gentleness and self-control (Galatians 5:22-23).
We cannot accomplish even these few things on our own. It takes God's Spirit living through us, empowering us, to live a life that honors Him and to complete His purpose for our lives. We are mere "earthen vessels," but when we surrender to Him and trust Him to help us mature and to use us for His kingdom, He does amazing things through us and He gets all the glory! He "shines" through us.
This should be our prayer: that God's light will shine through us to those around us every day. Let each of us be fully surrendered to God so He can mold us into light-bearing vessels that can bring Him glory and draw many to Jesus, the light of the world.