"We know that we have passed from death to life, because we love the brethren," (I John 3:14).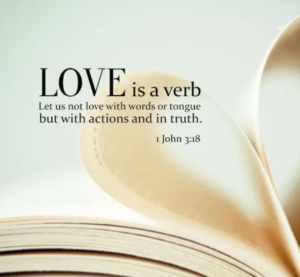 "This is my commandment, that you love one another as I have loved you. Greater love has no one than this, than to lay down one's life for his friends," (John 15:12-13).
I've never noticed this before: Jesus commands us to love one another. It isn't a suggestion. It isn't a thought to consider doing what He says. It's a command: "Love one another as I have loved you."
Love is a decision. Love is a choice we make. Love is a verb, which implies activity and effort. And Jesus commands us to love one another! His Word strongly implies that we are given the capability to love by His Spirit in us who empowers us to do all the things He has commanded us to do (Ephesians 1:19-21 & 3:20-21). It also says that if we do not love one another, if, in fact, we show hate and hostility toward one another, that behavior is an indication that we are not truly a child of God!
"Beloved, let us love one another, for love is of God; and everyone who loves is born of God and knows God. He who does not love does not know God, for God is love," (I John 4:7-8).
"If someone says, 'I love God,' and hates his brother, he is a liar; for he who does not love his brother whom he has seen, how can he love God whom he has not seen? And this commandment we have from Him: that he who loves God must love his brother also," (I John 4:20-21).
In verses 7-8 above, John says Christians love because God is the essence of love, and those who are born again receive God's nature (by His Spirit). Since God's nature exhibits love as a chief characteristic, God's children will also reflect that love. Conversely, someone may profess to be a Christian, but only those who display love like their Heavenly Father actually possess His divine nature and are truly born again.
It has been said that emotion follows action. There are a lot of times we don't feel like doing something for someone. But we know it's what Jesus would do, so we do it, and as we do it, God's Spirit empowers us with His love and compassion.
Are you thinking of an instance in your life right now where you need to obey our Father and allow Him to supply the love you don't feel? It could be a relationship with a spouse, a child, a friend, a sibling, a co-worker. I'm thinking of one in my own life.
We are loved by God — so much that He sent His Son to die in our stead. We cannot out-give God in our love for those around us! I'm going to ask Father to allow this truth to permeate my mind and heart so that I will become more consciously like Jesus in this area. How about you?