"But why do you call Me 'Lord, Lord,' and not do the things which I say? Whoever comes to Me, and hears My sayings and does them, I will show you whom he is like: He is like a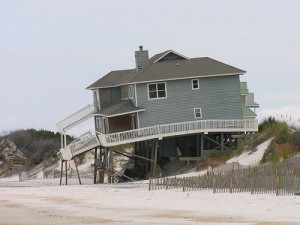 man building a house, who dug deep and laid the foundation on the rock. And when the flood arose, the stream beat vehemently against that house, and could not shake it, for it was founded on the rock. But he who heard and did nothing is like a man who built a house on the earth [sand – Matthew 7] without a foundation, against which the stream beat vehemently; and immediately it fell. And the ruin of that house was great." (Luke 6:46-49).
Jesus' question at the beginning of this passage is poignant: "You call me Lord, but you don't obey me as Lord. Why is that?"
This same narrative is given in Matthew (7:21-27), but the truth in the passage is also addressed by Jesus' brother, James, in his epistle:
"But be doers of the word, not hearers only, deceiving yourselves. If anyone is a hearer of the word and not a doer, he is like a man observing his natural face in the mirror; for he observes himself, goes away, and immediately forgets what kind of man he was. But he who looks into the perfect law of liberty and continues in it, and is not a forgetful hearer, but a doer of the work, this one will be blessed in what he does,"(James 1:22-25).
God highly values our obedience. He insists on it. And there is a difference between saying you are going to obey Him and actually obeying Him. Remember the parable of the two sons?

"But what do you think? A man had two sons, and he came to the first and said, 'Son, go, work today in my vineyard.' He answered and said, 'I will not,' but afterward he regretted it and went. Then he came to the second and said likewise. And he answered and said, 'I go, sir,' but he did not go. Which of the two did the will of his father?"
They said to Him, "The first." (Matthew 21:28-31a)
So saying you will obey isn't obeying. Doing is obeying. God's Word is full of direct commands for us to obey. Do we do them? Commands like:
Tell the truth (Ephesians 4:25)
Love fellow believers (I John 4:7-11)
Don't slander your fellow believers (James 4:11)
Don't curse (Ephesians 4:29)
Set your mind on heavenly things (Colossians 3:2)
Don't grieve God's Spirit (Ephesians 4:30)
Choose to serve God and not sin (Romans 6:12-14)
Be kind and forgive one another (Ephesians 4:32)
Treasure heavenly riches rather than earthly treasures (Matthew 6:19-21)
Make God's Word a priority in your life (Colossians 3:16)
Do everything you do under the auspices of Jesus (Colossians 3:17)
And on and on we could go.
The Living Word gave us His written Word for our good and our joy, but it will only bring us good and joy (and peace, and fulfillment) if we obey it. Jesus prefaced His story of the wise & foolish builders in Matthew's account by saying,
"Not everyone who says to Me, 'Lord, Lord,' shall enter the kingdom of heaven, but he who does the will of My Father in heaven. Many will say to Me in that day, 'Lord, Lord, have we not prophesied in Your name, cast out demons in Your name, and done many wonders in Your name?' And then I will declare to them, 'I never knew you; depart from Me, you who practice lawlessness!'" (Matthew 7:21-23).
So, if we say we are following Him, but our lives don't corroborate our words, it appears there is some reason to question whether we have truly come to saving faith and eternal life through Jesus.
A life lived in love with and obedience to Jesus is readily apparent. The main point, here, is that we examine our own life to ensure that we have built it on the solid foundation of Jesus Christ and His Word.
Sand is great to wriggle our toes in and build castles and enjoy other types of play, but it is lousy as a foundation for a house. Have you ever stood on the shore as the tide comes in and watched as the water picked up sand and pulled it back out to sea as it returned? Sand is flimsy and extremely susceptible to erosion. And water damage in a home is the worst kind of damage. It wrecks everything! And if the foundation is ruined, that is catastrophic!
Having the foundation of one's life susceptible to erosion leaves a person unsteady, insecure and in constant spiritual danger
Jesus — and by extension His Word — is the Rock on which our life is not only to be founded, but fashioned. If we are firmly established in Him, when the storms of life descend — and we know they will! — we won't sustain any water damage and our foundation won't erode. We'll weather the storms well with the Rock of our salvation holding fast until each storm passes and the sun reappears.