"This hope we have as an anchor of the soul, both sure and steadfast, and which enters the Presence behind the veil," (Hebrews 6:19).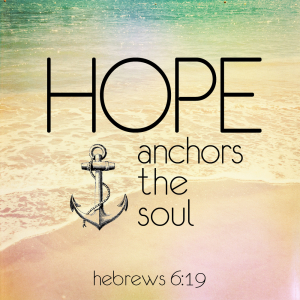 This is the only verse in the entire Bible where the word, "anchor" is used! The preceding verses in Hebrews 6 talk about how God had promised to bless Abraham through Isaac. This promise — and the oath God also swore to Abraham — came on the heels of Abraham obeying God's command to sacrifice Isaac . . . Until God, at the very last minute, stopped him (Genesis 22:15-17).
In Hebrews 6:17, the writer refers to the heirs of promise:
"Thus God, determining to show more abundantly to the heirs of promise the immutability of His counsel, confirmed it by an oath . . . "
That's us — the Bible says we are heirs of the promises of God to Abraham through our faith (Galatians 3:6-9).
Then in verses 18-19 of Hebrews 6, it talks about God wanting to give us hope as an anchor for the soul. There's the anchor! Just as God had a future mapped out for Abraham, the hope we are to have is in the future God has for us:

"That by two immutable things, in which it was impossible for God to lie, we might have a strong consolation, who have fled for refuge to lay hold upon the hope set before us: which hope we have as an anchor of the soul, both sure and steadfast, and which enters the Presence the veil . . . "
According to the notes in my study Bible, the word "hope" in Scripture isn't a wish or a dream as is defined in today's vernacular. The Greek word used describes something that is certain, but not yet realized. There's no reason to doubt. It's gonna happen.
So, in other words, God gave the example of His sure word to Abraham — through the promise and the oath He gave to Abraham — so that we, Abraham's heirs through faith, would likewise be completely assured that the future He has promised us will come to pass.
What future? What hope?
"Because of the hope which is laid up for you in heaven, and what you heard before in the word of the truth of the gospel," (Colossians 1:5).
"Through whom [Jesus] also we have access by faith into this grace in which we stand, and rejoice in hope of the glory of God," (Romans 5:2).
"To them God willed to make known what are the riches of the glory of this mystery among the Gentiles: which is Christ in you, the hope of glory," (Colossians 1:27).
"Paul, apostle of Jesus Christ, by the commandment of God our Savior and the Lord Jesus Christ, our hope," (I Timothy 1:1).
"Beloved, now we are children of God; and it has not yet been revealed what we shall be, but we know that when He is revealed, we shall be like Him, for we shall see Him as He is. And everyone who has this hope in Him purifies himself, just as He is pure," (I John 3:2-3).
Heaven is our hope made possible through the death of Jesus. Jesus is our hope because it is through Him we have the promise of living throughout all eternity with Him in glory — in a glorified, sinless, eternal, immortal body. That is our future and our hope!
The Lord promises us an eternity we cannot truly fathom yet (but it's fun to try!). This is the hope we cling to that encourages us in the midst of trials and spiritual battles, heartaches and the fears that come on us as we watch world events.
We anticipate — hope in — a future when all the troubles and trials of this earth are but a dim memory.
What an amazing God we have! Our Father takes care of every detail in our lives to ensure we have all we need to walk through the battles of this life spiritually safe, keeping our eyes focused on where we're headed: Home.