"When they had assembled with the elders and consulted together, they gave a large sum of money to the soldiers, saying, 'Tell them, "His disciples came at night and stole Him away while we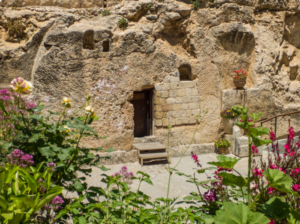 slept." And if this comes to the governor's ears, we will appease him and make you secure.' So they took the money and did as they were instructed; and this saying is commonly reported among the Jews until this day," (Matthew 28:12-15).
"Now if Christ is preached that He has been raised from the dead, how do some among you say that there is no resurrection of the dead? But if there's no resurrection of the dead, then Christ is not risen. And if Christ is not risen, then our preaching is empty and your faith is also empty. Yes, and we are found false witnesses of God, because we have testified of God that He raised up Christ whom He did not raise up – if in fact the dead do not rise. For I'd the dead do not rise, then Christ is not risen. And if Christ is not risen, your faith is futile; you are still in your sins! Then also those who have fallen asleep in Christ have perished. If in this life only we have hope in Christ, we are of all men the most pitiable," (I Corinthians 15:12-19).
It seems unfathomable to me to consider this, but there are people walking around on this planet who don't believe Jesus rose from the dead! They don't believe He was anything special, certainly not the Son of God or the Savior sent to rescue those who would accept His free gift of salvation.
My perspective of the world, of how I face crises or even daily frustrations, the joy that I have as I go about my day, the peace I experience in the midst of difficult circumstances, all of it is colored by my belief that Jesus died for me, rose again and sits at the right hand of God the Father interceding for me. I'm guessing that's true for you, too. How do those people who don't believe in Jesus as conqueror and King make it through their days?
Here's what really gets me: The chief priests knew the truth. The soldiers told them exactly what happened, and they bribed them to lie! I cannot fathom their damnation!
Jesus promised repeatedly that He would rise from the dead (Matthew 12:40; 16:21; 17:9, 23; 20:19; 26:32), And if He failed to keep this promise then none of His other promises are trustworthy. But the truth is, Jesus did rise from the dead. It doesn't matter what anyone thinks or what they say.
"But now Christ is risen from the dead, and has become the firstfruits of those who have fallen asleep," (I Corinthians 15:20).
Christ's resurrection confirms that He is, indeed, the Son of God as He claimed to be!
"And declared to be the Son of God with power according to the Spirit of holiness, by the resurrection from the dead," (Romans 1:4).
His resurrection provided proof that God had accepted the sacrifice of His Son and would be able to be just and yet justify the ungodly (us).

"Who was delivered for our offenses, and was raised again for our justification," (Romans 4:25).
His resurrection was witnessed by Mary (John 20:11-18); Peter and the disciples (John 20:19-20; I Corinthians 15:5); and ultimately by over 500 Christians prior to His ascension (I Corinthians 15:6). Paul saw Him too (I Corinthians 15:8).
It happened!
And since Jesus fulfilled this miraculous, amazing, wondrous promise, then we know that He will keep His promise we still await:

"In my Father's house are many mansions; if it were not so, I would have told you. I go to prepare a place for you. And if I go and prepare a place for you, I will come again and receive you to myself; that where I am, there you may be also," (John 14:2-3).
Jesus has promised some unbelievable things! But they are believable because He is the one who promised them. He has fulfilled one incredible promise that resulted in our justification and the promise of our own resurrection (I Corinthians 15:20). Among the many of His promises we trust, there may be none more inconceivable, at present, than that He'll come back and get us.
Personally, I believe He'll do it. How about you?