"Now in the fourth watch of the night Jesus went to them, walking on the sea. And when the disciples saw Him walking on the sea, they were troubled, saying, 'It is a ghost!' And they cried out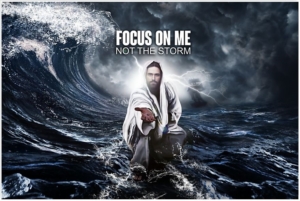 for fear.
"But immediately Jesus spoke to them, saying, 'Be of good cheer! It is I; do not be afraid.'"
And Peter answered Him and said, 'Lord, if it is You, command me to come to you on the water.'
"So He said, 'Come.'
"And when Peter had come down out of the boat, he walked on the water to go to Jesus. But when he saw that the wind was boisterous, he was afraid; and beginning to sink he cried out, saying, 'Lord, save me!'
"And immediately Jesus stretched out his hand and caught him, and said to him, 'Oh you of little faith, why did you doubt?'" (Matthew 14:25-31)
There's an image of Jesus you can find on the internet that I love. He seems to be squatting on the sea and a large wave is rearing up behind Him. He's reaching out His hand toward the viewer and the caption says, "Focus on Me, not the storm." Have you seen it? (You have now! )
There are so many circumstances that come up in each of our lives that are troublesome, you might even say storm-like. Did you have a large amount to pay in for taxes? Do you have a loved one hospitalized and don't know if they will live or die? Maybe there are regulations at work, or a relationship with a loved one that has gone awry. Perhaps there is a need to stand up for a conviction that may cost you dearly. You fill in the blank. Situations arise all the time that fill us with angst.
Why is it that too often our Lord is not the first place we go for comfort, wisdom, direction?
I think it's because the situation we're dealing with is visible, and so we instinctively just reach out to deal with it. In Peter's case, Jesus was right in front of him, visibly present as he walked on a tempestuous sea. Even so, his eyes strayed for just a couple seconds to the waves thrashing about, and down he went!
In our life, looking to the Lord in trying situations is a purposeful matter of faith. We can't see Him, but we know He's there, ready to help. It's a matter of calling out to Him, and when we do, bam! He's there and ready with what we need. He does wait for an invitation. Our act of determinedly seeking Him is a step in our spiritual growth that is absolutely vital, and of course He knows that.
I'm reminded of something Jesus said to Thomas:

"Because you have seen Me, you have believed. Blessed are those who have not seen and yet have believed," (John 20:29).
Peter saw Jesus literally in front of him. So did Thomas. Right now, we see Him by faith. We are the ones Jesus was referring to in that comment. Oh, He's there for us! But our relationship with Him needs to be dynamic enough that when any happy or challenging circumstance arises, He is the first Person we think to turn to.
We must learn to focus on Him in the midst of any "storm" that comes up in our life, whether it's a squall or a category five hurricane. He wants to be our solution, our security, our wisdom, our peace, our friend. And He, as God, knows not only what will happen next, but how to deal with it.
Worry, regret, fear — these are human responses to the storms God allows in our lives. But our Father wants us to have faith, He wants us to run and cling to Him and trust Him as we walk through each storm together. I want to conscientiously work on that in my life. How about you?