"And Peter answered Him and said, 'Lord, if it is You, command me to come to you on the water.' So He said, 'Come.' And when Peter had come out of the boat, he walked on the water to go to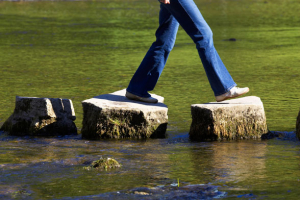 Jesus. But when he saw that the wind was boisterous, he was afraid; and beginning to sink he cried out, saying, 'Lord, save me!' And immediately Jesus stretched out His hand and caught him and said to him, 'O you of little faith, why did you doubt?'"
I remember a number of years ago a favorite musician of mine, Guy Penrod, had a word picture he would paint about taking steps in faith. He said (and I paraphrase), "God doesn't give us a floodlight so we can see everything that's coming along our path. He gives us a flashlight, so all we can see is the very next step. That way we have to trust Him."
Obviously that was a very poignant picture for me because it has stuck with me all these years. And honestly, that's exactly how God works, isn't it?
God talks quite a bit in His Word about the steps we take:
"The steps of a good man are ordered by the Lord, and He delights in his way," (Psalm 37:23).
"A man's heart plans his way, but the Lord directs his steps," (Proverbs 16:9).
Every step taken by a man or woman (or child!) who loves God is prepared, directed, even ordained by God. We can be confident of this truth no matter what befalls us on our journey toward Heaven. Sometimes we begin to walk a certain course, so to speak, and God completely redirects us in a way He has established for us.
Sometimes it feels like our life has gone off course or circumstances appear out of control. Panic can easily set in in any number of situations, but God instructs us not to panic, but to trust Him as He guides us on an uncertain path:
"Trust in the Lord with all your heart, and lean not on your own understanding; in all your ways acknowledge Him, and He shall direct your paths," (Proverbs 3:5-6).
It's encouraging to know that even as a Christ-follower, when we stumble, our Lord is there to pull us up and steady us! Psalm 37:23 says that God delights in our steps, but the next verse says,
"Though he fall, he shall not be utterly cast down; for the Lord upholds him with His hand," (Psalm 37:24).
Father's got our back!!
He does more than this. He actually leads us in the right direction— if we're following as we should!
"He restores my soul; He leads me in paths of righteousness for His name's sake," (Psalm 23:3).
The key is: listening to Him, following Him, desiring to please Him and leaning on Him to help us do these things every day. In-and-of ourselves the idea of living for Jesus, of having every step we take be right, is impossible. But if we lean on His indwelling Spirit, it's do-able because He will do it through us by
–Strengthening us (Ephesians 3:16)
–Giving us understanding of God's Word (John 16:13)
–Empowering us to overcome fear (II Timothy 1:7)
–Gifting us with specific abilities (I Corinthians 12:7)
–Filling us with His character traits (Galatians 5:22-23)
This list isn't exhaustive, but it's a place to start in understanding all our Father has done to help us walk rightly. But even before that, we have to have a, "want to." So today my challenge is for us each to examine our hearts and make sure we have a fervent desire to ensure our path pleases our Heavenly Father. If we do, He'll be there to help us, literally, every step of the way.