"Your faithfulness endures to all generations," (Psalm 119:90a).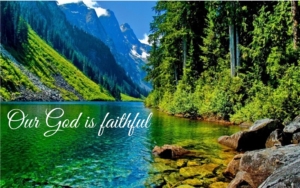 "Through the Lord's mercies we are not consumed, because His compassions fail not. They are new every morning; great is Your faithfulness," (Lamentations 3:22-23).
"God is faithful, by whom you were called into the fellowship of His Son, Jesus Christ our Lord," (I Corinthians 1:9).
God is faithful.
I don't know about you, but I often think about me being faithful to God, but I'm not sure I consciously think about God being faithful to me.
Faithfulness speaks to the very core of God's character. Faithfulness has to do with being reliable, of demonstrating fidelity, firmness, stability, trustworthiness, dependability and being true to one's word. Wow! Our Father has all of that in spades, doesn't He? His faithfulness is immeasurable, as David said,
"Your mercy, O Lord, is in the heavens; Your faithfulness reaches to the clouds," (Psalm 36:5).
And as Moses wrote:
"Therefore know that the Lord your God, He is God, the faithful God who keeps covenant and mercy for a thousand generations with those who love Him and keep His commandments," (Deuteronomy 7:9).
I may not be conscious of thinking of Him as faithful, but unconsciously I do. It's why I am confident of every promise He makes to me in His Word:

"But the Lord is faithful, who will establish you and guard you from the evil one," (II Thessalonians 3:3).
"If we confess our sins, He is faithful and just to forgive us our sins and to cleanse us from all unrighteousness," (I John 1:9).
"No temptation has overtaken you except such as is common to man, but God is faithful, who will not allow you to be tempted beyond what you are able, but with the temptation will also make the way of escape, that you may be able to bear it," (I Corinthians 10:13).
"Let us hold fast the confession of our hope without wavering, for He who promised is faithful," (Hebrews 10:23).
Think of any promise our Father has given to us in His Word that you, personally, cling to. Do you believe it? Do you trust that He is telling you the truth in that promise? Presumably you do, and it is because of this specific character quality He has: He is always completely faithful to us and to His Word.
This is probably also why our trusting Him is immensely important to Him. Our lack of trust in Him is an affront to His character, His very nature. And every day, as we wake up and face the uncertainties of our human relationships, the instabilities of world events, the fickleness of our own character, the one thing we can rely on is that our Lord is the same yesterday, today and forever (Hebrews 13:8).
Today, let's revel in that one Person in our world who will always be there for us and always behave consistently and with love: our Heavenly Father.