"And I will pray the Father, and He shall give you another Comforter, that He may abide with you forever; even the Spirit of Truth; whom the world cannot receive, because it sees Him not,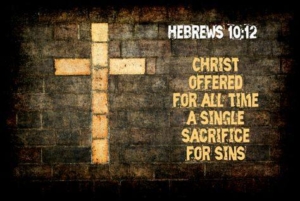 neither knows Him: but you know Him; for He dwells with you, and shall be in you. I will not leave you comfortless: I will come to you," (John 14:16-18).
"These things have I spoken onto you, that my joy might remain in you, and that your joy may be full," (John 15:11).
I listened to the Christmas carol, "God Rest Ye Merry Gentlemen," the other day and I was struck by the repeated phrase, "O tidings of comfort and joy." The song is basically a recitation of the Christmas story — a telling of the incarnation. In Luke, the angel of the Lord said to the shepherds,
"Fear not: for behold, I bring you good tidings of great joy, which shall be to all people. For unto you is born this day in the city of David a Savior, which is Christ the Lord," (Luke 2:10-11).
Prior to Jesus' coming, the people of Israel were weighed down by the burden of their sin. Even though every year they performed sacrifices that would theoretically absolve them of their sins, the ritual had to be performed often, because it didn't truly absolve them, and every time they offered a sacrifice they were reminded anew of their sin and the tragedy of their sinful nature.
"For the law, having a shadow of the good things to come, and not the very image of the things, can never with the same sacrifices, which they offered continually year-by-year, make those who approach perfect. For then would they not have ceased to be offered? For the worshipers, once purified, would've had no more consciousness of sins. But in those sacrifices there is a reminder of sins every year. For it is not possible that the blood of bulls and goats could take away sins," (Hebrews 10:1-4).
The word, "comfort," means, "the easing or alleviation of a person's feeling of grief or distress." The people of Israel never truly had their grief and distress alleviated because they were reminded of their sins every single time they offered a sacrifice for sin, for uncleanness, for sins they weren't sure they'd even committed!
But the sacrifice Jesus came and made is eternally different!
"And every priest stands ministering daily and offering repeatedly the same sacrifices, which can never take away sins. But this Man, after He had offered one sacrifice for sins forever, sat down at the right hand of God, from that time waiting till His enemies are made His footstool. For by one offering He has perfected forever those were being sanctified," (Hebrews 10:11-14).
"He has perfected forever" we who choose to accept His sacrifice whether we are Jew or Gentile. One sacrifice handles all of our sins — past, present and future. And we have so much more than a sacrifice. We are remade — reborn — with God's Spirit who helps us live a godly life and become more like Jesus every day! This is why Jesus said in the scripture above, " he dwells with you, and shall be in you."

"I say then: walk in the Spirit, and you shall not fulfill the lust of the flesh," (Galatians 5:16).
That is the power Paul talks about in Romans 6; and Ephesians 1 and 3. We not only have our sins paid for, we have been given the power to resist sin!
Is that not a reason for comfort and joy!? No wonder the Spirit of God is called our Comforter! Much easier to grasp why Jesus says He gives us His joy to remain (continue, abide, dwell) in us! We've not only been rescued from our sin nature and separation from God for eternity, but we have been given everything we need to live for God now and resist sinning!
"Grace and peace be multiplied to you in the knowledge of God and of Jesus our Lord, as His divine power has given to us all things that pertain to life and godliness, through the knowledge of Him who has called us by glory and virtue, by which have been given to us exceedingly great and precious promises, that through these you may be partakers of the divine nature, having escaped the corruption that is in the world through lust," (II Peter 1:2-4).
This is the Christmas story:
Remember Christ, our Savior,
Was born on Christmas Day
To save us all from Satan's power
When we were gone astray
Oh tidings of comfort and joy!!!!! This is the season to celebrate!