"For I delivered to you first of all that which I also received: that Christ died for our sins according to the Scriptures, and that He was buried, and that He rose again the third day according to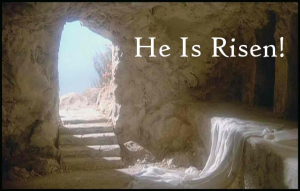 the Scriptures," (I Corinthians 15:3-4).
This is the gospel in a nutshell. Not simply that Jesus died for us, but that He was buried and then that He rose from that grave.
We appropriately hear a lot about His death. Jesus' sacrifice on our behalf was key. Jesus was and is the sinless Son of God. No one else could have died in our place effectively. This is because no one else is without sin. By dying in our stead, He not only redeemed us, but He transferred His righteousness to us:
"For He made Him who knew no sin to be sin for us, that we might become the righteousness of God in Him," (II Corinthians 5:21).
His burial was likewise important, not only to fulfill Old Testament prophecy, but because of the tradition of the Jews. This tradition (which had nothing to do with God's Word) touted that a person's soul/spirit remained with the dead body for three days. If Jesus had risen earlier than that, the Jewish authorities would have claimed that He never actually died. (Note that He also waited three days to raise Lazarus from the dead.)
But without the resurrection, the entire plan fails. How do I know that? Scripture says so.
"For if the dead do not rise, then Christ is not risen. And if Christ is not risen, your faith is futile; you are still in your sins," (I Corinthians 15:16-17).
The resurrection demonstrates Jesus' divinity and the power of God over sin and death and hell. Without it, Jesus is simply a martyr. With it, He is declared to be the victorious Son of God!

"And declared to be the Son of God with power according to the Spirit of holiness, by the resurrection from the dead," (Romans 1:4).
The resurrection is also an important element in our justification, that is, making us righteous in the sight of God:
"Who was delivered up because of our offenses, and was raised because of our justification," (Romans 4:25).
The note in my study Bible says of this verse, "The resurrection provided proof that God had accepted the sacrifice of His Son and would be able to be just and justify the ungodly."
His resurrection was also a prototype of our coming resurrection and made our future resurrection possible:
"And from Jesus Christ, the faithful witness, the firstborn from the dead, and the ruler over the kings of the earth," (Revelation 1:5).
"But now Christ is risen from the dead, and has become the firstfruits of those who have fallen asleep," (I Corinthians 15:20).
Again, my study Bible notes, "Christ's resurrection will precipitate and guarantee that all of the saints who have died will be resurrected also."
The cross is not the only symbol of our redemption. The empty tomb declares, "Jesus saves!" It is an integral part of our salvation planned by God in eternity past. Let's thank God that Jesus rose from the dead and for all that means for us. Let's celebrate His resurrection every day, not just the one day we set aside for it each year. Let's anticipate the fact that one day we too will experience a resurrected body that will be ours in Glory with Jesus forever!