"Peace I leave with you, My peace I give to you; not as the world gives do I give to you. Let not your heart be troubled, neither let it be afraid.," (John 14:27).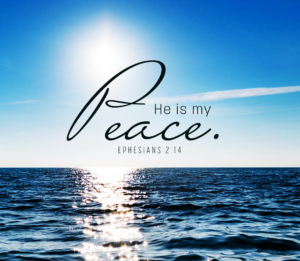 Do you watch the local and national news before you go to bed at night? Mmmmm . . . not the best time to ingest such horrors. Or do you read a paper as you feast on your breakfast each morning? I promise you, Scripture is much more appetizing!
Bad news sells, so whenever we catch the news, it's mostly bad, and often downright frightful! Here are some general headlines I'm looking at as I write this:
–Cartels elude "saturation patrol", sow terror
–Mom accused of decapitating 6-year-old child and dog
–UN Security Council to Hold Emergency Meeting on Ukraine-Russia Tensions
–Twin earthquakes in Afghanistan kill 26, leave families searching for loved ones
–We Need Help: Another Cyclone Batters Madagascar
–Suspect arrested in kidnapping of Bloomberg ranch worker
–Israel Fires Missiles on Border Positions Inside Syria
Lovely world we live in, isn't it? The atrocities seem to escalate daily.
This world is rocked by sin and its consequences. As I say, bad news sells. So we don't get news of the man who ran out of his home and saved people from an explosive car crash, or the lady in a foreign country working with a humanitarian group to end slavery. So if we're not careful, our perspective on the world around us — and sometimes our own lives — can be soured by this constant influx of bad news.
But here's the truth: No matter what the bad news is in our world, or in our personal lives, our Heavenly Father remains in control of it all! Nothing takes Him by surprise. He knows the end from the beginning and He's already got His end game in mind — both in the world at large (I Corinthians 15:24) and in our own lives (Romans 8:28-30).
This brings us to a theme with which Scripture is replete: trusting God.
"You will keep him in perfect peace, whose mind is stayed on You, because he trusts in You," (Isaiah 26:3).
Is a hurricane or an earthquake or a drought in our future? Will our political leaders fail us again? Will one of our children make a disastrous decision that changes the course of their life? Will the doctor say I have cancer? God — our Heavenly Father who loves us more than we can possibly understand — already knows about it and He has a plan to work it out for our good and His glory. Every time. All the time.
And what, particularly, will trusting Him with absolutely every circumstance or piece of news do for us? God says it will give us peace when others around us are in turmoil, and that will not only be a tremendous blessing for us, but possibly a chance to be a testimony to others about the grace and peace of God in our lives — and a witness to those who need Jesus!
Jesus told His disciples — and the message is for us, too, for the record —
"These things I have spoken to you, that in Me you may have peace. In the world you will have tribulation; but be of good cheer, I have overcome the world," (John 16:33).
If you belong to Jesus, He's got this, whatever "this" is. If your heart is in turmoil today over world news, or something in your own world, may you purpose to lay all of your fears and anxiety at the feet of our sovereign and loving Savior!