"See then that you walk circumspectly, not as fools but as wise, redeeming the time, because the days are evil," (Ephesians 5:16).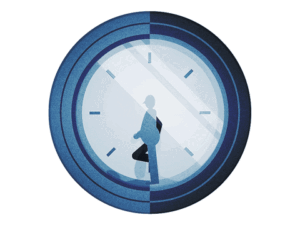 "Whereas you do not know what will happen tomorrow. For what is your life? It is even a vapor that appears for a little time and then vanishes away. Instead you ought to say, 'If the Lord wills, we shall live and do this or that,'" (James 4:13-15).
"But, beloved, do not forget this one thing, that with the Lord one day is as a thousand years, and a thousand years as one day," (II Peter 3:8).
Scripture talks a lot about time in many different ways and covering many different situations.
God tells us, for instance, to redeem the time. The word used in the Greek for the word, "redeem" means "to rescue from loss". Maybe another way to say it might be, "don't waste time."
We are also encouraged to not take time for granted. We mustn't assume how much time we have and flaunt our prospects for the future. We should, conversely, plan wisely and leave the final outcome in God's hands, acknowledging His sovereignty.
Then, too, we must remember that our perspective on time and God's are two different things. We are so easily impatient, but God has the schedule for events He has foretold all planned out and He's working His plan in the way that is best for every single human being and for all eternity.
Our earthbound life today is marked by time in many different measures. We "waste" time, and "spend" time, and "save" time. We have, "time on our hands" or we "make up for lost time". We talk about (and are jealous of — admit it, I confess!) those who "have all the time in the world," while others of us are "running out of time." Then we say, when, "our time is up," we leave this world for another. Our lives really are bound to the clock and the calendar.
But there is a time coming (no pun intended ) when the feverish pace we carry on here will give way to a life of peace: When we reach Heaven's shores. The descriptions of Heaven – to me at least – whisper the picture of quiet, serene, relaxed and tranquil moments. This is one of my favorites:
"And he showed me a pure river of water of life, clear as crystal, proceeding from the throne of God and of the Lamb. In the middle of its street, and on either side of the river, was the tree of life, which bore twelve fruits, each tree yielding its fruit every month. The leaves of the tree were for the healing of the nations," (Revelation 22:1-2).
I can picture myself on the banks of the river sitting under a fruit tree, munching a delicious piece of fruit.
Here's another:
"The city had no need of the sun or of the moon to shine in it, for the glory of God illuminated it. The Lamb is its light. And the nations of those who are saved shall walk in its light, and the kings of the earth bring their glory and honor into it. Its gates shall not be shut at all by day (there shall be no night there). (Revelation 21:23-25).

We will walk in it's light. We won't run. We won't race or scurry. We won't drive at high speeds. We'll walk. Whatever kind of time we have, we'll have time to walk. To me, this speaks of placidity, rest, peace. I think we'll be busy. But I don't think we'll be frenetic in our activities. After all, our God is a God of peace.
"For God is not the author of confusion but of peace . . . " (I Corinthians 14:33)
"Now may the Lord of peace Himself give you peace always in every way . . . " (II Thessalonians 3:16).
"For unto us a Child is born, unto us a Son is given; And the government will be upon His shoulder. And His name will be called Wonderful, Counselor, Mighty God, Everlasting Father, Prince of Peace," (Isaiah 9:6).
Today we embark on a new moment in time – a brand new year. A year filled with appointments, full schedules, meetings, responsibilities with time limits. The fast pace is likely to continue. It seems to be a hallmark of the progressive world we live in with digital clocks and computers and phones with faster and faster speeds. Faster!  So we can accomplish more! So we can add to our schedule. So we can run ourselves ragged!  Truth!
But while we bustle about today and every day going forward, may we purpose to live for that one moment that is coming when we no longer are slaves to a clock or a calendar or a schedule as we know it, but rather serve our Lord Jesus and reign with Him in His kingdom marked by peace.