"We love Him because He first loved us," (I John 4:19).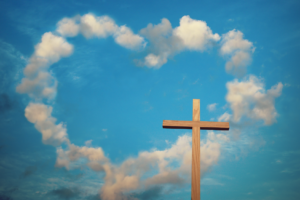 "And we have known and believed the love that God has for us. God is love, and he who abides in love abides in God and God in him," (I John 4:16).
I just read that Christianity is the only "religion" that presents a God that loves His people. I don't like the word "religion" applied to Christianity, because I consider what we have, as believers, to be a relationship rather than a religion. But semantics aside, any other so-called god I've read of, heard of or studied is demanding, threatening, and vengeful toward adherents. The God of the Bible — the one true and living God — is the only God who is and behaves with pure love. It is a wonderful and miraculous thing that we can have a relationship based on love with the God who created the universe!
The verse we are most familiar with regarding God's love for us is this:

"For God so loved the world that He gave His only begotten Son, that whoever believes in Him should not perish but have everlasting life,"(John 3:16).
That verse can become like an old, comfortable shoe. We appreciate it, but we don't really think about it. We've memorized it, we acknowledge it and we move on.
But do think about it again: God, the righteous, just and holy God who created all that is loved us so much — we who were dead in trespasses and sins (Ephesians 2:1) — that He sacrificed His own beloved, holy, righteous Son to die a cruel death on a wooden cross by proud, angry, misinformed and jealous sinners to pay our sin debt so He could live with us forever. I don't think there are words to adequately explain that. We don't know why or how that could be, only that it's so.
Here are some possibly another less familiar verses about His incomprehensible sacrifice:
"But God demonstrates His own love toward us, in that while we were still sinners, Christ died for us," (Romans 5:8).
"I have been crucified with Christ; it is no longer I who live, but Christ lives in me; and the life which I now live in the flesh I live by faith in the Son of God, who loved me and gave Himself for me," (Galatians 2:20).
"And walk in love, as Christ also has loved us and given Himself for us, an offering and sacrifice to God for a sweet-smelling aroma," (Ephesians 5:2).
The cross demonstrated God's love for us. What greater display of love could there be?
"Greater love has no one than this, and to lay down one's life for his friends," (John 15:13).
But there are many more references to His overwhelming love for us.
"Who shall separate us from the love of Christ? Shall tribulation, or distress, or persecution, or famine, or nakedness, or peril, or sword? . . . I am persuaded that neither death or life, nor angels nor principalities nor powers, nor things present nor things to come, nor height nor depth, nor any other created thing, shall be able to separate us from the love of God which is in Christ Jesus our Lord," (Romans 8:35, 38-39).
God's love for us is so strong, so all-encompassing that nothing can ever make Him stop loving us. He will always be there for us, compassionately helping us through the most difficult of life's storms. He always has been there and He always will be. We have but to acknowledge His presence and desire to help.
His love is extraordinary. He has not only redeemed us from our sin, but He — the God who created Heaven and earth — has adopted us, made us His children!
"Behold what manner of love the Father has bestowed on us, that we should be called children of God!" (I John 3:1a).
Paul prayed for those to whom he ministered for many things. One of the things he told the Ephesians he prayed for for them was that they that they would not only be aware of God's love, but would understand it, feel it, perceive it, be sure of it:
"For this reason I bow my knees to the Father of our Lord Jesus Christ, from whom the whole family in heaven and earth is named, that He would grant you, according to the riches of His glory . . . That Christ may dwell in your hearts through faith; that you, being rooted and grounded in love, may be able to comprehend with all the saints what is the width and length and depth and height – to know the love of Christ which passes knowledge," (Ephesians 3:14-15, 18-19).
This prayer of Paul's is for us, too, and one I pray for you. How fulfilled, how at peace — no matter the circumstances — how filled with joy we can be knowing that the God of Heaven loves us! This isn't an exhaustive study. I challenge you to search out God's Word about His amazing, unending love for you. It will do your heart good and perform a transforming work in your mind and soul as you truly begin to grasp this truth personally.
Jesus loves you. Right now. Not just when He died for you — that from our perspective was millennia ago. Today, in whatever circumstances you find yourself. At this moment He is beside you, within you, waiting for you to call out, always caring about the details that delight you and fill you with joy and enthusiasm, as well as those that cause you angst, heartache, grief. Believe it enough to act upon this truth by sharing everything with Him and immersing yourself in His grace, His goodness and His devotion to you.