There is one verse of the song, "In Christ Alone," that is particularly poignant to me: The one that gives almost a shout of triumph at Jesus' resurrection! These are the two lines: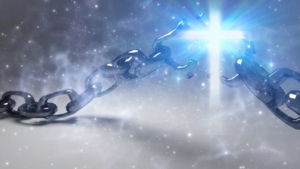 "And as He stands in victory
Sin's curse has lost its grip on me"
These lines make me stop and think: The resurrection is everything. What if Jesus had never risen from the dead? It's unthinkable! But much hinges on the fact that He DID rise from the dead and therefore a number of things happened, one of which is that we are no longer subject to the reign of sin in our lives!
I love Romans chapter 6. It's all about how we who have trusted Jesus Christ to save us have been freed from the power of sin in our lives. Paul said, ". . . just as Christ was raised from the dead by the glory of the Father, even so we also should walk in newness of life."
He said so much more, too:
" . . . knowing this, that our old man was crucified with Him, that the body of sin might be done away with, that we should no longer be slaves of sin. For he who has died [with Christ] has been freed from sin . . . Likewise you also, reckon [consider it done] yourselves to be dead indeed to sin, but alive to God in Christ Jesus our Lord . . . Therefore DO NOT LET SIN REIGN in your mortal body [we have a choice, now!], that you should obey it in its lusts. And do not present your members as instruments of unrighteousness to sin, but present yourselves to God as being alive from the dead, and your members as instruments of righteousness to God. For SIN SHALL NOT HAVE DOMINION OVER YOU, for you are not under law but under grace."
Can you fully grasp the freedom we have in Christ from the power of sin in our lives?  There is no power compared to the power of God's Spirit in us!
I read those two lines from this song and I see Jesus standing alive and well outside His tomb, the very picture of victory over the dreaded enemy of death ("Oh death, where is your sting? Oh grave, where is your victory? – I Cor. 15:55). But then to hear the testimony of the writer . . . "Sin's curse has lost its grip on me!" A direct result of our Lord's resurrection!
There are many amazing things about the resurrection of Jesus. It was a powerful event that someday we, too, will experience because of the incomprehensible love of our Savior in choosing to die for us! But for today, I just wanted to remind all of us of this glorious truth that because of the resurrection of Jesus we are no longer a slave to our sin nature. And THAT is an amazing thing!