"But if we walk in the light as He is in the light, we have fellowship with one another, and the blood of Jesus Christ His Son cleanses us from all sin," (I John 1:7).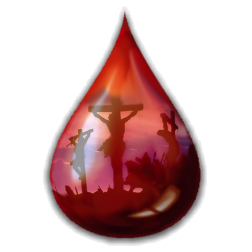 "Knowing that you were not redeemed with corruptible things, like silver or gold, from your aimless conduct received by tradition from your fathers, but with the precious blood of Christ, as of a lamb without blemish and without spot," (I Peter 1:18-19).
In many churches the importance of the blood of Jesus has diminished. This isn't good, because it's the blood of Jesus that cleanses us from our sin. Without it, there is no salvation, no heaven, no eternal relationship with God the Father.
There are, in fact, a whole lot of blessings we enjoy because Jesus was willing to shed His precious blood on our behalf. Here are a few:
WE RECEIVE FORGIVENESS BECAUSE OF THE BLOOD OF JESUS
"In whom we have redemption through His blood, the forgiveness of sins," (Col. 1:14)

I am forgiven, and this means that I don't have to pay for the penalty for my sin! I have been released from the need to pay for it, because Jesus already has. No sin that I've ever committed or ever will commit will ever be brought against me in God's court. I've been released from every charge for which the enemy would accuse me before the Father!! Hallelujah!
As believers we continually have forgiveness of sins. This implies that there is never a time when we do not have forgiveness before God. When we place our faith in Christ's death and resurrection to save us we have the complete forgiveness of all our sins forever. There is no time in the future when we will not have God's forgiveness. God clears us of all our charges before His presence forever and we have a sense of peace knowing that we will never be condemned by God for the sins we have committed in the past or will commit in the future.
WE ARE REDEEMED BY THE BLOOD OF JESUS
"In Him we have redemption through His blood, the forgiveness of sins, according to the riches of His grace," (Eph. 1:7)
Sin has brought all mankind into bondage: it has enslaved us. We have a sin nature, and we cannot help it: we sin. But by shedding His blood for us, Jesus redeemed us back to God from that slave market, freeing us forever from slavery to our sin nature!
I love Romans 6 because it wonderfully explains this idea of being freed from that slavery:
"For sin shall not have dominion over you, for you are not under law but under grace . . . God be thanked that though you were slaves of sin, yet you obeyed from the heart that form of doctrine to which you were delivered. And having been set free from sin, you became slaves of righteousness . . ." (Rom. 6:14, 17, 18).
Just like Hosea bought back Gomer (Hosea 3:1-2), so Jesus has bought us back from our cruel master!
WE CAN APPROACH THE THRONE OF GOD IN PRAYER BECAUSE OF THE BLOOD OF JESUS
"Therefore, brethren, having boldness to enter the Holiest by the blood of Jesus," (Heb. 10:19)
When we pray, we are not just praying to the air. We are entering into the presence of God and that is an amazing privilege! We are able to boldly go before the throne of grace because of the blood of Jesus Christ.
You are able to walk up to your heavenly Father and, because He sees you as righteous as Jesus (II Corinthians 5:21), sit on His lap — so to speak — and tell Him everything that is on your heart . . . because of the blood that Jesus shed. Your enjoyment of the presence of God in your life was bought with Jesus' selfless sacrifice.
The writer of Hebrews said,
"Therefore, brethren, having boldness to enter the Holiest by the blood of Jesus, by a new and living way which He consecrated for us, through the veil, that is, His flesh, and having a High Priest over the house of God, let us draw near with a true heart in full assurance of faith . . . (Heb. 10:19-22).
This is just the tip of the iceberg. A continued study from Scripture will show we are not only redeemed and forgiven, not only do we have immediate and constant access to God's throne, but we have been reconciled (Col. 1:20), sanctified (Heb. 10:10; 13:12) delivered from the power of death (Heb. 2:14), been given a purified conscience to serve God (Heb. 9:14) and so much more! We are seen as righteous before the holy God of the universe (II Cor. 5:21) who has now adopted us as children into His family forever (Rom. 8:15-16) .
That is the power of Jesus' blood. We must never forget it, dismiss it or treat it lightly. God's blood purchased our eternal salvation. We must treasure it and proclaim it forever!