The Bible says, "Without the shedding of blood there is no remission," (Hebrews 9:22)). The formal definition of the word, "remission," is, "forgiveness of sins." God's requirement is that blood be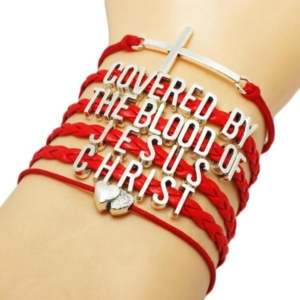 shed to atone for the sin of every human being. When God set up what we call the Law of Moses, He told Moses, "The life of the flesh is in the blood, and I have given it to you upon the altar TO MAKE ATONEMENT FOR YOUR SOULS; for it is the blood that makes atonement for the soul," (Leviticus 17:11).
Mankind has sinned and each individual requires forgiveness lest they be eternally lost. God provided the sacrificial system in the Old Testament as a kind of stop-gap until His Son came, "in the fullness of time," that is, "in God's timetable, when the exact religious, cultural, and political conditions commanded by God's perfect plan were in place." But God Himself says that it is not possible for the blood of bulls and goats to take away sins (Hebrews 10:4).
The sacrifice of Jesus — the God-man — was therefore necessary to fulfill God's requirement to rescue us, and He lovingly provided that lifeline. Many argue today that the gospel is a "bloody religion" and have gone so far as to remove the subject of the blood of Jesus from songs and hymns and sermons and Bible studies. But if God requires it, then who are we to reject not only the requirement, but God's own provision to fulfill that requirement? To do so is to take away the good news and decimate the message of salvation for all people! Sounds like a tactic of the enemy to me.
Check out some of the benefits resulting to those who choose to accept God's provision of His own perfect Lamb:
PEACE WITH GOD: "And by Him [Jesus] to reconcile all things to Himself, by Him, whether things on earth or things in heaven, having made peace through the blood of His cross," (Colossians 1:20). This becomes clearer when coupled with Romans 5:1, which says, "Therefore, having been justified by faith, we have peace with God through our Lord Jesus Christ." John MacArthur says, this is "not a subjective, internal sense of calm and serenity, but an external, objective reality. God has declared Himself to be at war with every human being because of man's sinful rebellion against Him and His laws. But the great result of [Christ's sacrifice] is that the sinners' war with God is ended forever." In other words, this isn't the, "peace that passes all understanding" that God gives in trials; this is reconciliation with God! An end to the eternal conflict for each man and woman who chooses it (Colossians 1:21)!
REDEMPTION: "Knowing that you were not redeemed with corruptible things, like silver or gold, from your aimless conduct received by tradition from your fathers, but with the precious blood of Christ as of a lamb without blemish and without spot," (I Peter 1:18-19). The definition of the word "redemption" is, "to buy back someone from bondage by the payment of a price; to set free by paying a ransom." Each man and woman is born into this world in bondage to sin and under the curse of eternal death. But Jesus, God in the flesh, paid the ransom with His own blood, and now we who accept His payment are redeemed from the slave market of sin!
PROPITIATION: "[Jesus] whom God set forth as a propitiation by His blood, through faith . . . " (Romans 3:25). BIG word: propitiation. Not hard to understand, though. Really. The definition of the word, "propitiate," is, "to gain or regain the favor or goodwill of: appease." My study Bible says, "Crucial to the significance of Christ's sacrifice, this word carries the idea of appeasement or satisfaction – in this case Christ's violent death satisfied the offended holiness and wrath of God against those for whom Christ died." God's holiness and His wrath HAD TO be satisfied, and I was on my way to Hell to accomplish this. And then Jesus stepped in and, in effect, said, "Father, let ME satisfy your wrath in her stead." Wow!
JUSTIFICATION: "Much more then, having now been justified by His blood, we shall be saved from wrath through Him," (Romans 5:9). The definition of the Greek word used here means, "to declare righteous." It is a legal term; a verdict that is declared. (Who likes Perry Mason and Matlock and Bull? You'll get the concept!). So Jesus stepped in, as we said, and said, "Father, allow me to appease your wrath and requirement of holiness on Heidi's behalf." He, the spotless, sinless Son of God dies and is subsequently resurrected. Payment is made! I accept that payment on my behalf. And as I stand before the judge, God says, "Not guilty!" But He does MORE than that! He attributes Jesus' perfect righteousness to ME! Now when God sees me, He doesn't see me as a sinner. He sees me as perfectly righteous with no sin . . . Just like Jesus! (II Corinthians 5:21).
SANCTIFICATION: Therefore Jesus also, that He might sanctify the people with His own blood, suffered outside the gate," (Hebrews 13:12). Each person who chooses to accept Jesus' sacrifice in their stead is not only declared not guilty, is not only declared to have the absolute righteousness of Jesus Christ applied to themselves, but further, they are set apart for God. That's what the word, "sanctify" or "sanctification" means: "to set apart." The Bible says this is done by the Spirit of God and for the purpose of obedience: "Elect according to the foreknowledge of God the Father, in sanctification of the Spirit, for obedience and sprinkling of the blood of Jesus Christ," (I Peter 1:2).
So there I am standing in the Heavenly courtroom. God declares me righteous because of Jesus, and I step aside to a little area prepared especially for those who choose to accept Jesus' death as payment for their sin. Then you come up. You, too, are guilty and doomed to Hell because of your sin. But Jesus says to the Father, "I paid for him/her too." You accept the offer of Christ to pay for you, and you come over and stand with me. Not everyone will stand with us. Only those who choose to accept Jesus as our substitute. We are set apart.
But further, we are set apart by God's Spirit. Every person who chooses Jesus as their substitute is given, at salvation, God's Spirit to dwell in them (Ephesians 1:13-14). He gives us the power we need to obey God (something those outside of Christ don't have; they are, in fact, slaves to their sinful natures and can't help themselves), and that obedience further and increasingly sets us apart from those who reject Jesus' offer to be their substitute. This growth in obedience and "sanctification" will continue until the day we see Jesus face to face.
CLEANSING FROM SIN: "If we confess our sins, He is faithful and just to forgive us our sins and to cleanse us from all unrighteousness," (I John 1:9). We have been saved — rescued from an eternity apart from God, been declared not guilty, been given the Holy Spirit to live in each of us. But unfortunately, until the day we die or Jesus comes to get us, we will continue to wrestle with sin that resides within the body we inhabit — the only part of us not yet fully redeemed. Paul admitted to wrestling with it in Romans chapter 7. In verses 21-23 he says, "I find a law, that evil is present with me, the one who wills to do good. For I delight in the law of God according to the inward man. But I see another law in my members, warring against the law of my mind, and bringing me into captivity to the law of sin which is in my members."
This is why we continue to need, cleansing from sin, as John puts it. Is it that we've lost our status before God every time we, "miss the mark?" No. It's about relationship. When you've offended your spouse or a child or a parent, the fellowship is broken. It's not what it should be. When we sin after we accept Jesus' provision for our eternal future, it mars our ongoing relationship with God. The concept of sin in the overall context of I John is that someone who has accepted God's gift of eternal life through Jesus will not habitually and blatantly PRACTICE a sinful lifestyle. One can't possibly do that and have God's Spirit living in them. But we WILL struggle with sin on our journey toward Heaven, and when we do, God says, "Call it what it is. Agree with Me that what you've done is sin, turn away from it and move on. Then, our fellowship will be restored."
The absolutely awesome news is that we CAN overcome sin in our lives! That's what Romans 6 is all about. We have something that those in the world don't have: the power of God through His Holy Spirit to say, "No!" to sin!!! Paul says, "Therefore do not let sin reign in your mortal body . . . do not present your members as instruments of unrighteousness to sin." Conversely, he says, "Present yourselves to God as being alive from the dead, and your members as instruments of righteousness to God," (vv. 12-13). And THEN he says, "For sin shall not have dominion over you, for you are not under the law but under grace," (v. 14). Whole 'nother subject, but I wanted to mention it.
A PURGED CONSCIENCE: "How much more shall the blood of Christ, who through the eternal Spirit offered Himself without spot to God, cleanse your conscience from dead works to serve the living God?" (Hebrews 9:14). John MacArthur calls the conscience, "The soul's warning system." He writes, in my study notes, that it, " reacts to sin and produces accusation and guilt that cannot be relieved apart from the work of Christ. At the time of salvation it is quieted from its convicting ravings, but it is not deactivated. Rather, it continues to work, warning the believer about sin." In another passage in II Corinthians, he says it, "allows human beings to contemplate their motives and actions and make moral evaluations of what is right and wrong. In order to work as God designed it, the conscience must be informed to the highest moral and spiritual level and best standard, which means submitting it to the Holy Spirit through God's Word."
Thank you, Lord, for taking away the fevered ravings of our guilty conscience through your Son's sacrifice, and giving us the compass of your Word to help us grow away from sin and respond increasingly with the character of Jesus!
ACCESS INTO GOD'S PRESENCE: "Therefore, brethren, having boldness to enter the Holiest by the blood of Jesus, by a new and living way which He consecrated for us, through the veil, that is, His flesh," (Hebrews 10:19-20) and, "Let us therefore come boldly to the throne of grace, that we may obtain mercy and find grace to help in time of need," (Hebrews 4:16). We stand with Jesus as His brothers (and sisters) according to Romans 8:29. Earlier in that same chapter we are called "joint heirs" with Christ (v. 17). Remember when we talked about being justified before God? God looks at ME and sees JESUS! Of COURSE Jesus can boldly come to the throne of God! He's sitting right beside it! And so, by the blood of Jesus, we also, individually and personally have FULL ACCESS to God's throne! Always!
Wow, this has been quite the study! I've been blessed. I hope you have. I've never had a better grasp of all of these concepts as I do today after going through this precious study on the blood of our Savior! Can you imagine, then, why someone would want to remove mention of the blood from any portion of our worship?  It's the enemy of our souls who loathes it – which is a perfect reason why we should shout it from the rooftops!