"So He came to a city of Samaria which is called Sychar, near the plot of ground that Jacob gave to his son Joseph. Now Jacob's well was there. Jesus therefore, being wearied from His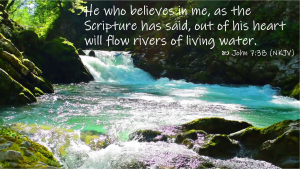 journey, sat thus by the well. It was about the sixth hour. A woman of Samaria came to draw water. Jesus said to her, 'Give Me a drink.'"(John 4:5-7).
In John 4, the story is recorded of Jesus speaking with the Samaritan woman at the well. I've heard many sermons on this passage in all my years as a Christian, but never has there been one I've heard about the water Jesus offered her! Here's what He said:

"If you knew the gift of God, and who it is who says to you, 'Give Me a drink, you would have asked Him, and He would have given you living water,'" (v.4).
When she asked for further clarification, He continued,
"Whoever drinks of this water will thirst again, but whoever drinks of the water that I shall give him will never thirst. But the water that I shall give him will become in him a fountain of water springing up into everlasting life," (v. 14).
Ever wondered what that water is? I was taking a walk the other day, thinking about sharing a devotional, and all of a sudden this conversation came to mind. Another passage came to mind as well, only two chapters later:
"On the last day, that great day of the feast, Jesus stood and cried out, saying, 'If anyone thirsts, let him come to Me and drink. He who believes in Me, as the Scripture has said, out of his heart will flow rivers of living water," (John 7:37-38).
I thought, "What is that living water?" Didn't have much research to do to find the answer! John tells us!

"This He spoke concerning the Spirit, whom those believing in Him would receive; but the Holy Spirit was not yet given, because Jesus was not yet glorified," (John 7:39).
The living water that Jesus spoke about in both passages is the Holy Spirit of God!
I was intrigued to discover that throughout Scripture, metaphors of water are given of God's Spirit! For instance, in Isaiah 44:3, God uses a parallelism to equate water with His Spirit, when He says,
"For I will pour water on him who is thirsty, and floods on the dry ground; I will pour my Spirit on your descendants, and my blessing on your offspring."
And get this! In Jeremiah 2:13, God calls Himself, "the fountain of living waters": "For my people have committed two evils: they have forsaken Me, the fountain of living waters, and hewn themselves cisterns – broken cisterns that can hold no water."
I've heard it said that there is a void in a person's life before they come to saving faith in Jesus Christ. Have you heard that, too? I would say that this is a similar, biblical metaphor.
Think about it: Water is essential to life. We die without it. As actual water gives life physically, so spiritual water — God's Holy Spirit — gives life spiritually. He is essential. We cannot live eternally without Him!
Every person comes into this world thirsty for God. But that thirst can only be satisfied by drinking at the true Fountain of Living Water — God Himself! The whole Fountain of Youth quest? Here's the answer: The God of the universe imparts to us His Spirit at the moment we come to saving faith through His Son, Jesus (John 3:5-8; Ephesians 1:13-14)! Eternal thirst quenched! (Intriguingly, in Ezekiel 39:29, Joel 2:28-29, Zechariah 12:10, Acts 2:33, and 10:45 the Spirit is said to be "poured out" — like water!!)
Just think! We who know Jesus have that living water — that fountain of eternal youth — right now!! Our eternal life doesn't start the day we die physically. It started the very moment we came to faith in Jesus Christ! Jesus said in John 3:36,

"He who believes in the Son has present tense] eternal life."
This is because we have God's living water inhabiting us! Are you as excited as I am to think about and realize this?!
Thank you, Lord, for giving to us Your Living Water and quenching our thirst for You! Now help us to live in gratitude that You have imparted to us your Spirit, thus giving us eternal life and the power to live for you each moment of every day. Help us to choose to walk in the power of Your Spirit by surrendering to Him. May we acknowledge that we have found the fountain of youth and may we share this amazing discovery with those around us who are searching for it!