"And do not be conformed to this world, but be transformed by the renewing of your mind, that you may prove what is that good and acceptable and perfect will of God," (Romans 12:2)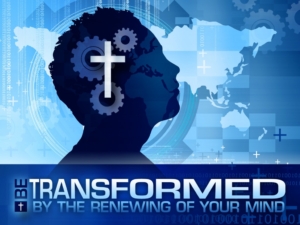 The word, "renew" means, "To make new or as if new again; restore." God wants our minds renewed. He says this will, "transform" us. The word, "transform" means, "To change the nature, function, or condition of; convert." God says we will be transformed as we renew our minds!
How is our mind renewed? By God's Spirit in us using His Word:
"But the Helper, the Holy Spirit, whom the Father will send in My name, He will teach you all things, and bring to your remembrance all things that I said to you," (John 14:26).
What will we be transformed into? The glory of God; the likeness of Christ:
"But we all, with unveiled face, beholding as in a mirror the glory of the Lord, are being transformed into the same image from glory to glory, just as by the Spirit of the Lord," (II Corinthians 3:18).
As we look at the glory of God through His Word, we increasingly look like the glory of God. We become what we behold. We portray what we perceive.
May we spend time with Christ so that we can become increasingly like Him!