"And He said to me, 'My grace is sufficient for you, for My strength is made perfect in weakness.' Therefore most gladly I will rather boast in my infirmities, that the power of Christ may rest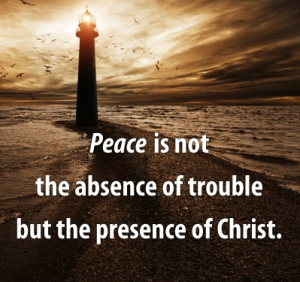 upon me. Therefore I take pleasure in infirmities, and reproaches, and needs, in persecutions, and the stress is, for Christ's sake. For when I am weak, then I am strong," (II Corinthians 12:9-10).
Man, how often do we remember these words in the middle of a trial? I can't say they automatically jump to my mind. And yet this is God's promise — and remember, He's faithful and true (Revelation 19:11).
Is our Lord with us in trials? Yes. In fact, He's always with us, in good times and bad. Remember?
"And I will pray the Father, and He will give you another Helper, that He may abide with you forever – the Spirit of truth, whom the world cannot receive, because it neither sees Him nor knows Him; but you know Him, for He dwells with you and will be in you. I will not leave you orphans; I will come to you," (John 14:16-18).
"And because you are sons, God has sent forth the Spirit of His Son into your hearts, crying out, 'Abba, Father!'" (Galatians 4:6).
"For He Himself has said, 'I will never leave you nor forsake you,'" (Hebrews 13:5b).
If we can — each of us in our moments of grief, anger, confusion, fear — if we can remember that He has promised us, i.e., given us the gift of, His presence, what kind of a difference will it make in our lives? If you were certain that He was with you every minute of every hour of every day, what kind of difference would it make in your life?
Well, He is. He promised He would be, and His Word declares it to be so. We have but to believe it and act on it.
Today, right now, what is the prominent challenge you are dealing with? You know it. It's staring you in the face every morning when you wake up. It may make you groan inwardly because it's like a heavy weight you're having to carry every day and you just wish it would go away, that your circumstances would magically change, just like Paul prayed of his thorn in the flesh. Some days, the responsibility of it or the heartache it produces or the fear it generates seems insurmountable, doesn't it?
But all you have to do — all I have to do — is remember that we have the very God of the universe with us — in us — always! He remains quiet and unobtrusive. But the minute we talk to Him He's prepared to respond. We should converse with Him constantly. But we should also know that in any crisis or hardship, we have His strength and His power to draw on! He is right there to give us wisdom (James 1:5), peace (John 16:33), joy (John 15:11), and power (Ephesians 1:19; 3:20), just for starters.
It's a promise I can make to you (and Buddy made this sure promise when he penned the words to this song) that you're never alone as a child of God. He'll carry you when you feel you can't make it. He'll lead you, strengthen you, guide you through His Word. His Spirit is always present with you waiting for you to speak, to worship or to cry out for help. All this I can promise you because He has already promised this to you Himself.
Don't let another day go by of feeling alone, overwhelmed, forgotten. It isn't true. Jesus is always with you, just like He promised He would be.