In light of the turmoil we're experiencing as a nation, I was excited and blessed, this morning, to read these verses: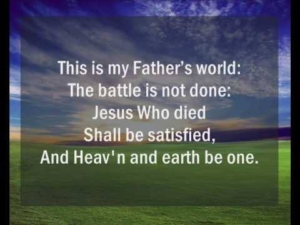 "Having made known to us the mystery of His will, according to His good pleasure which He purposed in Himself, that in the dispensation of the fullness of times [read: Millenium and beyond] He might gather together in one all things in Christ, both which are in heaven and which are on earth — in Him," (Ephesians 2:9-10).
God's ultimate goal is to bring Heaven and Earth together. One universe, with all things in Heaven and on Earth together under one head: Jesus Christ.
What will that look like? We can only imagine. But here is what it will look like politically:
"For unto us a Child is born, unto us a Son is given; and the government will be upon His shoulder. And His name will be called Wonderful, Counselor, Mighty God, Everlasting Father, Prince of Peace. Of the increase of His government and peace there will be no end, upon the throne of David and over His kingdom, to order it and establish it with judgment and justice from that time forward, even forever . . . " (Isaiah 9:6-7).
Let's see . . . PEACE. JUSTICE. Forever. Sound inviting?
I often have to communicate to Father how conflicted I am. I pray for America, but long to join Jesus in His kingdom. He knows my heart. Today I pray for America because this is where He has placed me. I still look forward to seeing Him when He's ready to come, but I will occupy today here while I wait. But I also look forward with great anticipation to the day when there is no more injustice, no more conflict, no more pride, no more lies. The day when Jesus is actually crowned King:
"Therefore God also has highly exalted Him and given Him the name which is above every name, that at the name of Jesus every knee should bow, of those in heaven, and of those on earth, and of those under the earth, and that every tongue should confess that Jes
us Christ is Lord, to the glory of God the Father," (Philippians 2:9-11).