"Nevertheless we, according to His promise, look for new heavens and a new earth in which righteousness dwells," II Peter 3:13.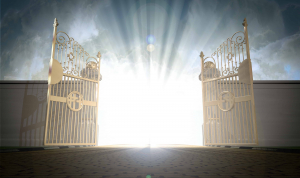 I don't know about you, but I am bone weary of hearing the news about all of the deception, crime, unfaithfulness, disobedience, ingratitude, slander and more that goes on in our world today. Hopefully you don't turn on the news too often, but it only takes a couple minutes of listening to almost any report to get discouraged listening to it. It surrounds us. It shouldn't come as a surprise, though. I mean, the Apostle John said straight up:
"We know that we are of God, and the whole world lies under the sway of the wicked one," (I John 5:19).
So, if we are weary of it at times, I guess that's appropriate. Then we aren't succumbing to it.
The other day, the music director at my church said that we are, "looking forward to living in a world where righteousness dwells." YES! That phrase – "a world where righteousness dwells" — really grabbed me, so I did some studying.
Someday we who know Jesus will be part of a new world where all is righteousness. Scripture mentions this new world many times (Isaiah 65:17; Revelation 21:1; Isaiah 66:22). Isaiah briefly touched on this when he wrote,
"Behold, a king will reign in righteousness,
And princes will rule with justice," (Isaiah 32:1)
But it isn't only a righteous rule (leaving everything else unrighteous, like entertainment, common folk, trade, banking, etc.), according to Peter. Righteousness actually dwells in the entirety of the new heavens and new earth that God promises us!
That word "dwells" in II Peter means, "to house permanently, i.e., reside – inhabit." All of the new heavens and the new earth will be inhabited by righteousness, justice, and equity forever. Everywhere we turn will be goodness, honesty, decency, integrity, morality, and virtue. Doesn't that sound wonderful?
Today, I invite you to consider this tremendous promise of our Father. Peter tells us what we can do with it, practically speaking. I commend to you his words from the Amplified version:
"So, beloved, since you are expecting these things, be eager to be found by Him [at His coming] without spot or blemish and at peace [in serene confidence, free from fears and agitating passions and moral conflicts]," (II Peter 3:14).
May we be eager for Jesus to find us without spot or blemish (which He has already made provision for — Ephesians 5:27), and then at peace – with all that implies — waiting for this momentous, new, eternal habitation!