"For we do not have a high priest who cannot sympathize with our weaknesses, but was in all points tempted as we are, yet without sin. Let us therefore come boldly to the throne of grace, that we may obtain mercy and find grace to help in time of need," (Hebrews 4:15-16).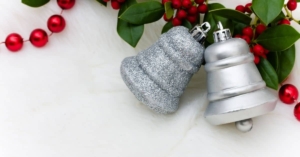 As I was having devotions one morning, recently, the thought came to me: "Why are there bells at Christmas?" We take so many things for granted. Just asking.
There are many explanations given for Christmas bells when you dig into it: pagan rituals; announcing the beginning of the season; the ringing of church bells to call people to worship . . . Some have little or nothing to do with Jesus and His incarnation or the purpose of His coming. I mean, we hear a lot about bells at Christmas! "Silver Bells," "Jingle Bells," "The Bells of Christmas," "Carol of the Bells," "Jingle Bell Rock," "I Heard the Bells on Christmas Day . . ." We even have bell ringers who greet us as we enter most stores during these holidays! What is the deal about bells?
Well, I learned something. Maybe it's not THE reason for bells at Christmas, but it is enlightening and, I think, will affect my perspective of Christmas celebrations going forward.
Did you know there is one place in Scripture where bells are mentioned? Yes. In Exodus 28, Moses explains how the high priest was to dress when he entered the Holy of Holies to represent the people before God:
"You shall make the robe of the ephod all of blue. There shall be an opening for his head in the middle of it; it shall have a woven binding all around it's opening like the opening in a coat of mail, so that it does not tear. And upon its hem you shall make pomegranates of blue, purple, and scarlet, all around its hem and bells of gold between them all around: a golden bell and a pomegranate, a golden bell and a pomegranate, upon the hem of the robe all around. And it shall be upon Aaron when he ministers, and its sound will be heard when he goes into the holy place before the Lord and when he comes out, that he may not die," (Exodus 28:31-35).
This assignment to enter the holy place was a grave responsibility. The high priest had to follow protocol perfectly — including a consecrating bath and a ritual sacrifice. He also was to search his heart to ensure it was pure as he entered to represent the people. If God recognized any imperfection in the priest's preparation, he could be struck dead inside the Holy of Holies, even as he ministered!
What if that happened?
Then you have a dead priest behind a curtain in a place where no one is qualified to recover the corpse. In a cursory search, I couldn't find an instance of a time when this actually happened. There is what amounts to Jewish legend that a rope would be tied around the waist of the high priest so that if he died in service in the holy place, they could pull him out. (This legend may hearken back to the narrative in Leviticus 10 about Aaron's two sons, Nadab and Abihu, who showed wanton disregard for God's specific instructions regarding how priestly duties were to be performed).
Now, this does beg the question, regardless of the legend: How would the people know if the high priest was still alive inside the holy place? By the sound of the bells ringing while the priest moved around performing his duties! That was the sound of him being alive and accepted by God. So for the people of God, ringing bells meant good news — especially for the high priest!
For we who know Jesus, whenever we hear the peel of a bell now, we can be reminded of the good news that we have been accepted by God and made alive in Him because of what our Great High Priest, Jesus Christ, did on our behalf. And we can share this good news with others so they, too, can be accepted by God through Jesus!
So ring the bells of the gospel this season! Celebrate that Jesus is alive and we are accepted by God through Him!
Isn't that a cool take on Christmas bells?