"Cast your bread upon the waters, for you will find it after many days." (Ecclesiastes 11:1)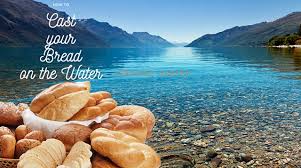 Do you know what this phrase means, "Cast your bread upon the waters?" I found a simple definition for the idiom: "Do good deeds without being motivated by a potential reward."
But that's not all that verse says, so the phrase doesn't actually stand alone. I checked out some verses that were listed in the margin of Ecclesiastes 11:1 in my Bible — verses that the editors felt were associated with this verse. And my eyes began to open because there is a principle that I discovered. Well, I knew about the principle, I just didn't know this verse applied to it. Look:

"And whoever gives one of these little ones only a cup of cold water in the name of a disciple, assuredly, I say to you, he shall by no means lose his reward," (Matthew 10:42).
"You shall surely give to him, and your heart should not be grieved when you give to him, because for this thing the Lord your God will bless you in all your works and in all to which you put your hand," (Deuteronomy 15:10).
"He who has pity on the poor lends to the Lord, and He will pay back what he has given," (Proverbs 19:10).
"So let each one give as he purposes in his heart, not grudgingly or of necessity; for God loves a cheerful giver. And God is able to make all grace abound toward you, that you, always having all sufficiency in all things, may have an abundance for every good work," (II Corinthians 9:7-8).
"And let us not grow weary in well doing good, for in due season we shall reap if we do not lose heart. Therefore, as we have opportunity, let us do good to all, especially to those who are of the household of faith," (Galatians 6:9-10).

"For God is not unjust to forget your work and labor of love which you have shown toward His name, and that you have ministered to the saints, and do minister," (Hebrews 6:10).
Here's the principle: You can't out-give God.
I found the transcript of a sermon by a fellow named Len Riemersma online entitled, "Bread Upon the Waters," and a few sentences from his message resonated with me especially in relation to this. Len said:

"If you have some bread, which is a metaphor for stuff of value, whether it is money or possessions, you should learn to give it away. The picture in the Hebrew language is to have open hands rather than clenched fists. With open hands you give away some of your valued money or possessions. And you don't just give once or twice but seven even eight times. Generosity is the key. And the reason for casting your bread on water is to let it go. Just toss it out, give it away, be generous without being obsessed where it is going.

"You know how this works. Even if we are generous enough to give we still want to make sure we know everything about where it is going. Did the recipients deserve the gift? Are they doing their part? Are they a legitimate cause? Are they expressing enough thanks? and, Do they know we are the ones who gave them this gift? It seems our giving has so many strings attached that it isn't really giving anymore.

"Solomon says to be generous and give as if you are throwing bread upon the waters. Then he adds, after you do this watch for the blessings. He says, 'After many days you will find it again.' This is a beautiful promise. When you give in the true spirit of giving it will come back to you. We have all experienced this. You did something nice and shortly afterwards something unexpectedly happens to bless you."

Think of how amazing our God is. He Himself is obsessively generous. This was exemplified when He gave His Son for us. But here, He tells us to have a heart open to giving to others and then says, in effect, "Don't worry, I'll pay you back!" Really? God is going to pay me back?

And you know Father! He never does anything half-heartedly! Thus the words from Luke 6:38 "Give, and it will be given to you: Good measure, pressed down, shaken together and running over will be put into your bosom. For with the same measure that you use, it will be measured back to you."

Jesus very obviously, "Cast [His] bread upon the waters" when He lavishly spent His very life on us! But He knew that He would, "find it after many days," and He looks forward to cashing in when He comes and gets us and sits down to dine with us at our wedding feast!

"But I say to you, I will not drink of this fruit of the vine from now on until that day when I drink it new with you in My Father's kingdom," (Matthew 26:29).

If this principle is true for Jesus, we can be sure it is true for us in situations that seem insignificant in comparison: time in a soup kitchen; giving a sizable amount to someone as a down-payment on a house (that actually happened to me); our weekly offering; a donation to a ministry doing a specific work for God; giving $20 to a lady and her child that walk up to you in the grocery store parking lot . . . You fill in the blank. There is no end to the examples I could give. It's about following God's direction in your own life.

We keep on working for the kingdom and sharing the love of Jesus, and then watch what God does and thank Him for both growing the seeds we've planted and for how He unnecessarily but consistently blesses us for our generosity.