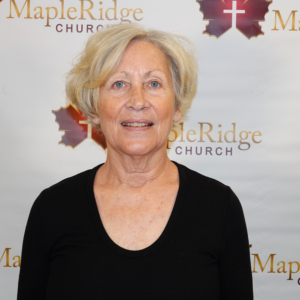 RESPONSIBILITIES
The mission of our hospitality ministry is to provide a welcoming environment of love, acceptance, comfort, and support for visitors, members, guest and friends in order to enhance their worship experience, encourage fellowship helping to build a community at MapleRidge.
MY FAITH JOURNEY
I accepted Christ in my life in my early 20's, it was the beginning of my journey.  I love Jesus and my journey, and He continues to change me and teach me.  I was broken; it turned out that is exactly what Jesus needed.
I love beyond what I know how to, I give GOD all the glory.  I pray more deeply for others, give more generously.
FAMILY
I have been blessed with a beautiful, strong daughter and two of the most precious gifts…my grandbabies – Parker and Finley
PASSIONS FOR THE KINGDOM
I love people and I love to serve! I have enjoyed ushering at church for the last few years. I am excited to see what the Lord has in store for me.  Look what He is doing now!  Serving people is my passion and joyfully showing them love when they walk through the door at MapleRidge Church.
FAVORITE BIBLE VERSE
Psalms 23: The Lord is my Shepherd, I lack nothing!  It is about Jesus. It is always about Jesus.  There is a beginning and an end, there is hope in the darkness and we need not fear evil. When Jesus needed guidance, He went to the Lord to pray.  With the Lord as my Shepherd I lack nothing and gain strength and hope.
HOBBIES
Dog rescue has been prevalent in my life for years.  Now I want to use my time serve the Lord. I love to walk with my dog every day (yep even when it is cold out). Spend time with my daughter and grandkids.
RECOMMENDED BOOKS
The Bible